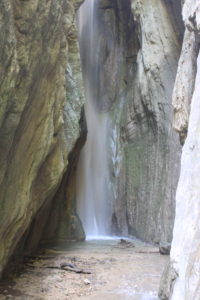 Cascata del Cugnuntu is a nice waterfall near Corone in the region Umbria.
The trail begins after the leprosarium of San Lazzaro, a complex built in 1218. Originally there was also a church and a hospital building, but today everything is quite dilapidated.
The waterfall is located at the junction of the valleys in Poggio di Croce and Montaglioni where you can see the watercourse "Lu Cugnuntu" characterized a small waterfall of about 20 meters.
When you drive up to the leprosarium you can park over there but you can also drive along the dirt road for about 700 meters where a small open space to park is located. The place is isolated and not likely to find any traffic.
There is a sign indicating the beginning of the path, follow it and you pass a small gate (string between two poles) for not passing animals. At this point we enter the forest and have to follow the trail until you reach the point where you get wet feet wet because the trail ends in the creek.
Cascata del Cugnuntu is hard to find because you have to find your way through a sort of gorge before you reach it. It is wise to take water shoes with you.
© Pictures by Nicola Morgantini