Autumn 2023: "Madeira - Portugal"
Madeira is known as flower island and an island with a lot of rain. This time we had decided to take a mid-October vacation to Madeira. I was very much looking forward to a great holiday , especially since there are dozens of photogenic waterfalls. I was a little apprehensive about the weather, though. A lot of rain was predicted and it had hardly rained on Madeira for months. And it showed: trees with dry leaves, forest fires and the very worst..... no or hardly any water in the waterfalls, too bad.

In contrast, the weather was good all week (above 25C) and only on Thursday there was some rain at the end of the day and in the evening. Friday was the time to visit two waterfalls anyway. It had been raining nicely and I had high hopes. Unfortunately, in one of the waterfalls there was no water and in the second one a little bit. All in all we saw some waterfalls in a week, but October is not the ideal month to visit Madeira..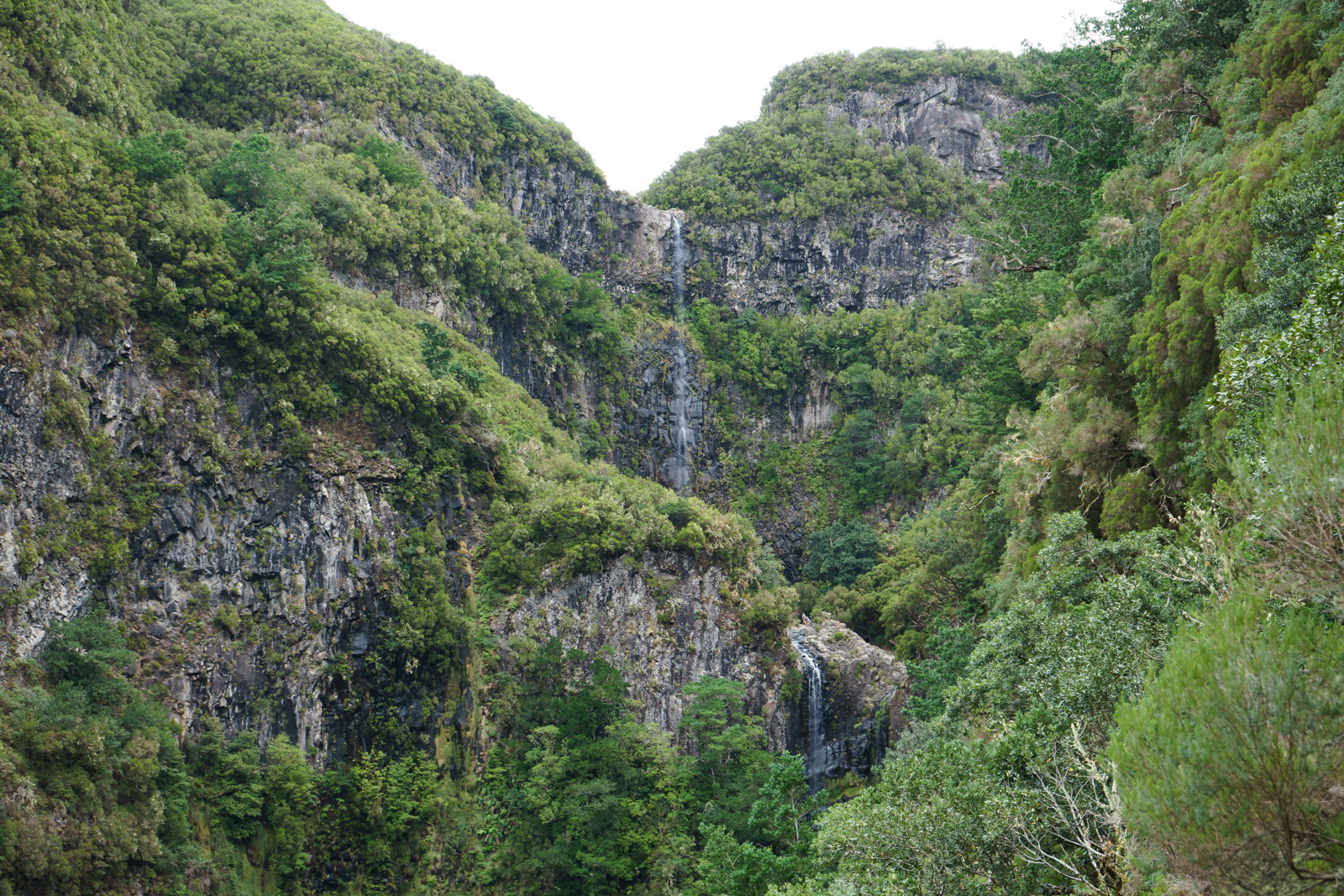 Day 1 - Amsterdam > Funchal (Portugal)
We have a ridiculously early flight and we land as early as 9:30 a.m. local time. We can't get into the hotel yet and decide to explore Funchal. The "farmer's market" is definitely worth a visit and you can have a cheap and good lunch. We come across fruits and flowers we have never seen before in our lives. The rest of Funchal is not really special but nice to have seen for a while. We spend the rest of the afternoon sitting by our pool (with ice and ice cold water), recovering from a lack of slack.
Day 2 – Monte Palace botanic garden & Levada do Balcões
After an half hour's drive, we arrive at Madeira's top attraction, Monte Palace. A beautiful large and beautifully landscaped garden, with art, exhibits and especially beautiful flowers (as far as they are still blooming in October). Anyway, I take lots of pictures. The garden runs down in segments with a new theme each time. You can easily spend a couple of hours there. As far as we are concerned, a "must to visit".

In the afternoon we will do a short hike at Levada do Balcões. The walk ends at a nice viewpoint, but it is slightly hazy.
The weather remains good and the end of the day we enjoy the pool again. Still haven't visited a waterfall in Madeira. Also a bit because it is bone dry and there will not be much water in the waterfalls.
Day 3 Levada Faja do Rodrigues
Today we are going to do an easy hike, a hike where I have seen beautiful pictures of waterfalls. The hike is not too long, but you have to go 1 kilometer through a dark tunnel on a narrow path along the Levada (the water in a gully).

The hike starts well and a Levada discharges its water into a "manmade" waterfall. But there is hope. The hike is beautiful and just before a tunnel I spot three waterfalls. Admittedly not too powerful but nature is beautiful and the waterfall comes from a nice height.
The hike continues to the 1 kilometer long tunnel. Fortunately the battery of my cell phone is full because you really need light to go through the tunnel. The end of the hike is slightly disappointing. I think in the rainy season Ribeira do Inferno can be quite beautiful. Now I spot 1 small waterfall and walking further up along the water is not possible. Too bad, but still the first waterfalls on Madeira!

We spend the afternoon at a natural swimming pool in the sea near Faial (for free). The water here is lovely and we don't want to leave. Later in the afternoon we also drive to the cliff where you can see everything from above and where you have a beautiful view of the jagged and wild coastline of the north.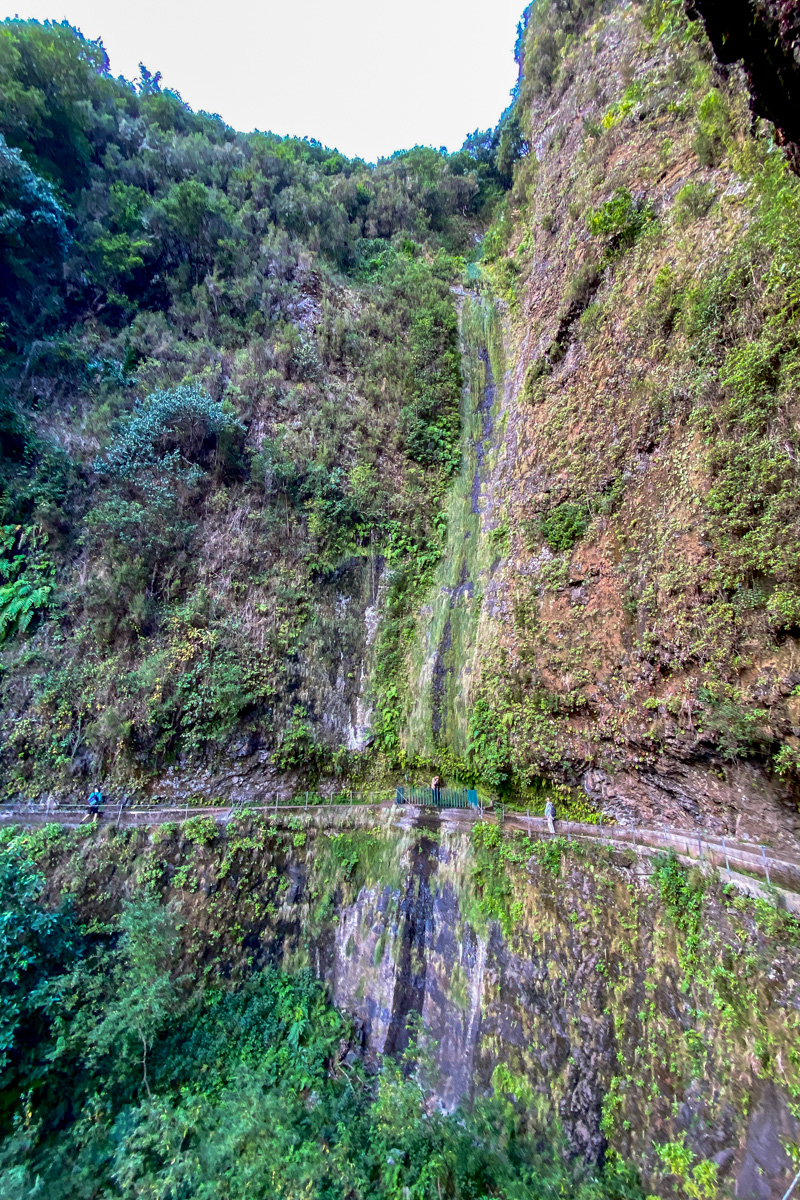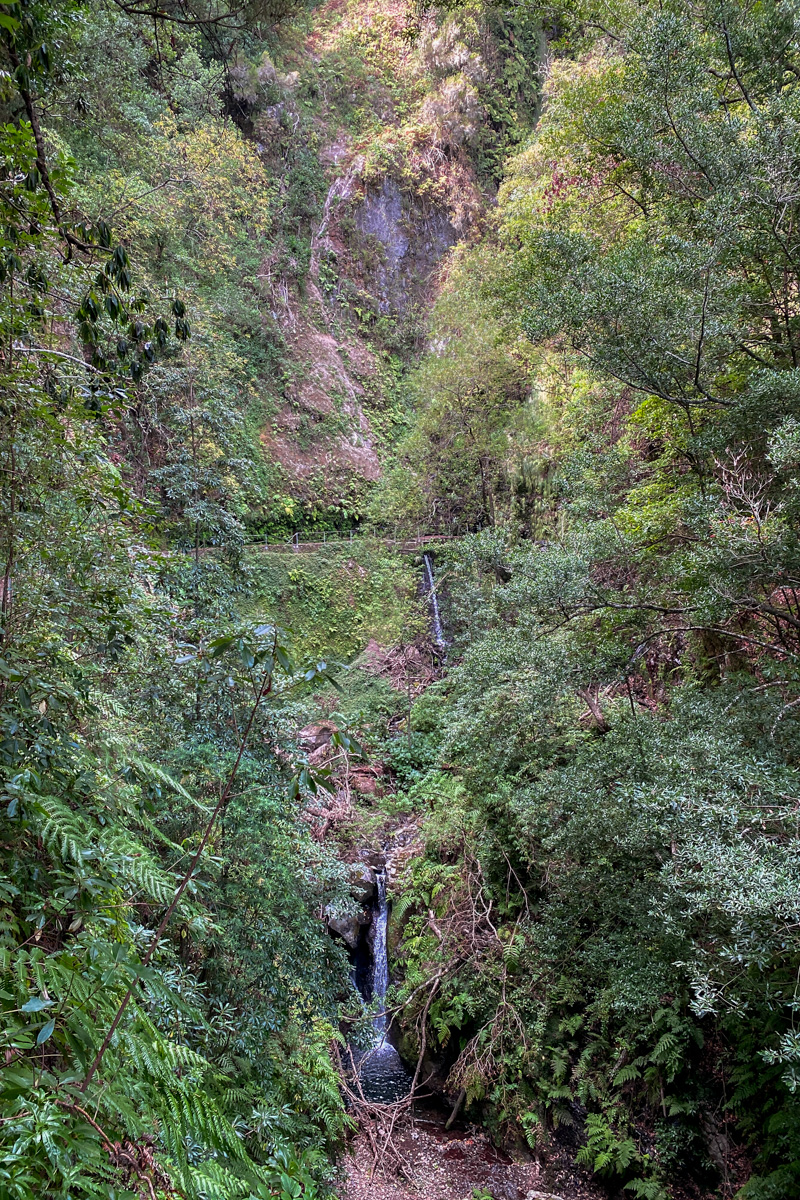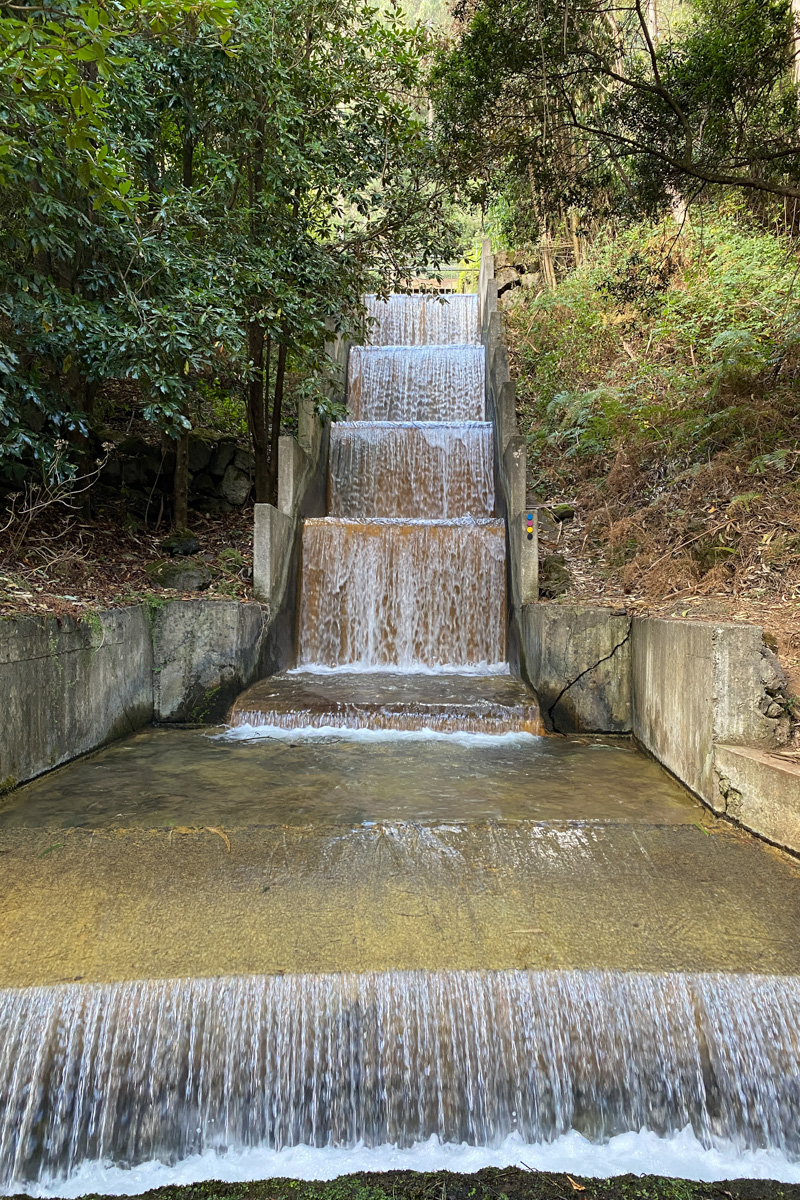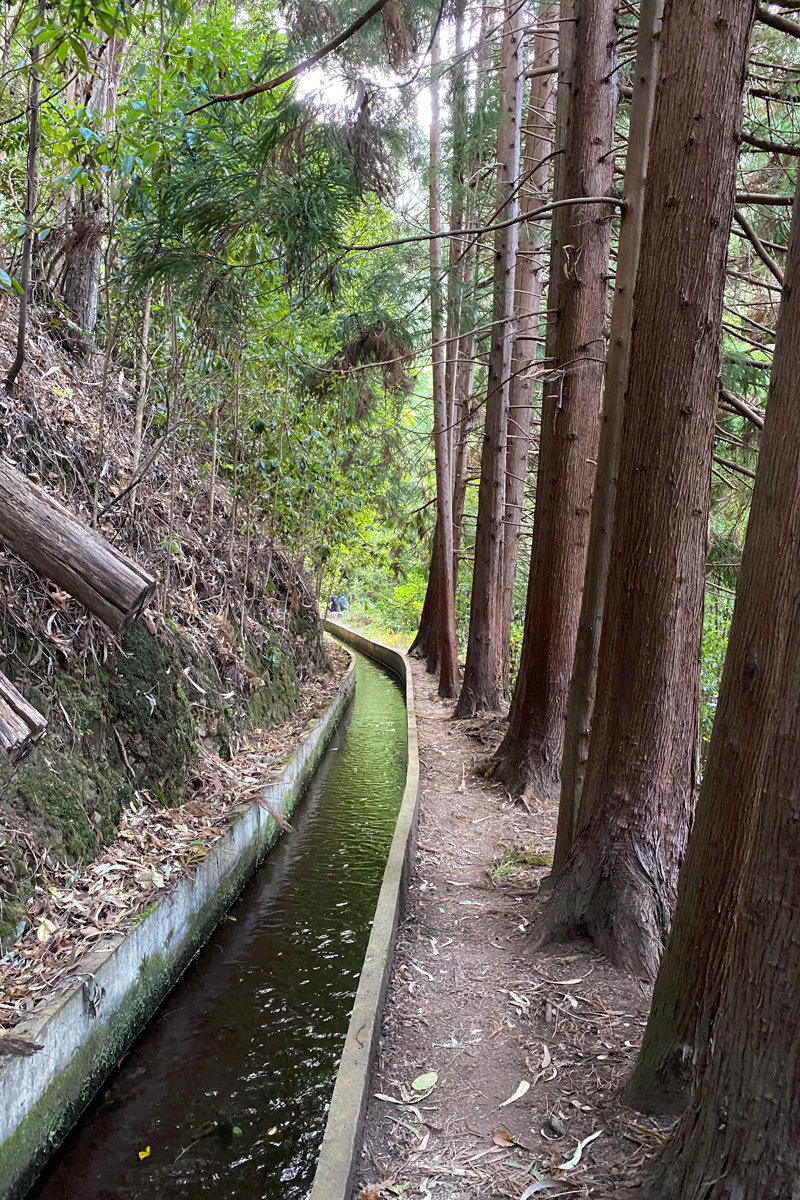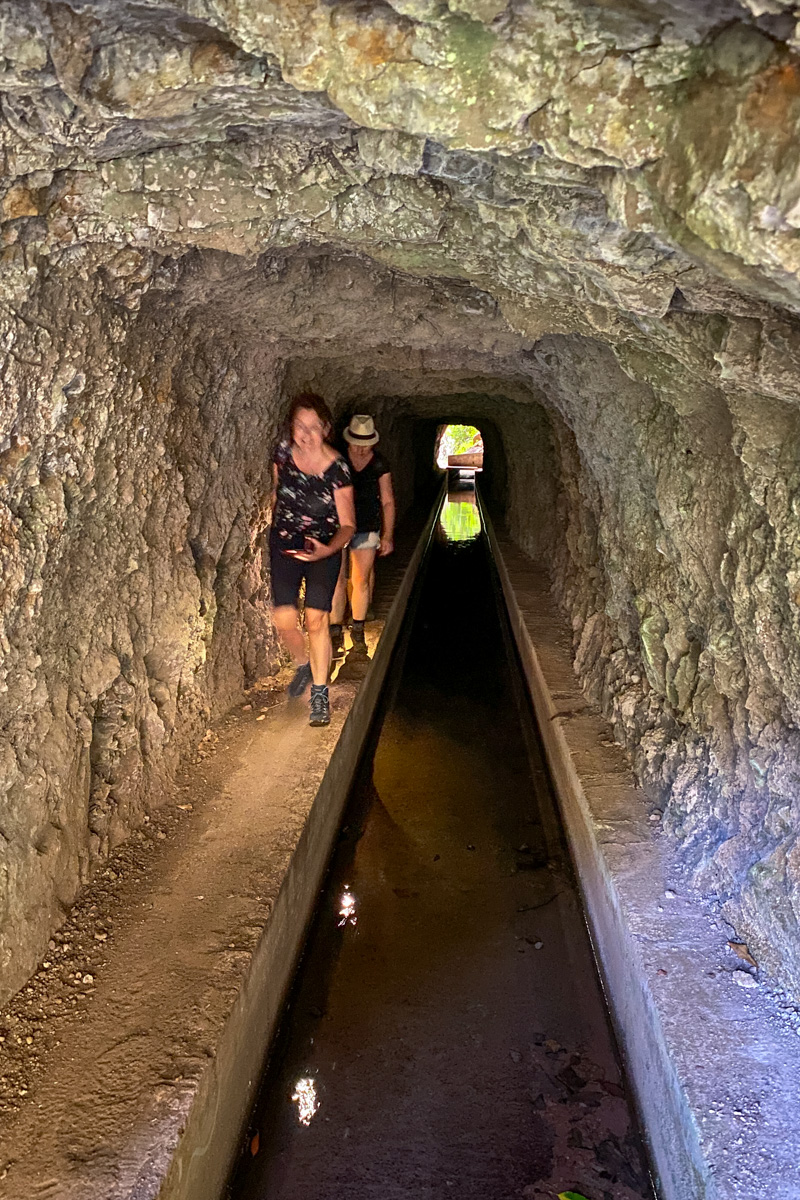 Day 4 – Seixal
We decide to drive to the northwest where a number of waterfalls come down from gigantic heights. Even though the streams are narrow, this is the highlight, as far as I'm concerned, in terms of waterfalls on Madeira.

A little further on, another waterfall plunges directly into the sea, at Miradouro vue da Noiva. Again beautiful views, even when looking towards the mountains. After rainfall, there must be dozens of waterfalls here. I see them but there is little water in them.

In Seixal we visit a black sand beach and again a natural pool in the sea. Unfortunately, it rains briefly slightly and we decide not to swim.

Along the coastline there are beautiful rock formations and views and 1 more waterfall, but we are on our way to Lagao do Fanal. Nice to see but there is no water here either????

The road network is good and the nature beautiful. We end the day at Madeira's most famous waterfall, cascata d'Anjos. The waterfall that falls on the road you can drive through by car. To our surprise, there is still a fair amount of water in the waterfall. This is a must-see place and children love it!

In the evening we eat in a kind of car museum near our hotel in Santo da Serra. Very nice to dine here and very tasty.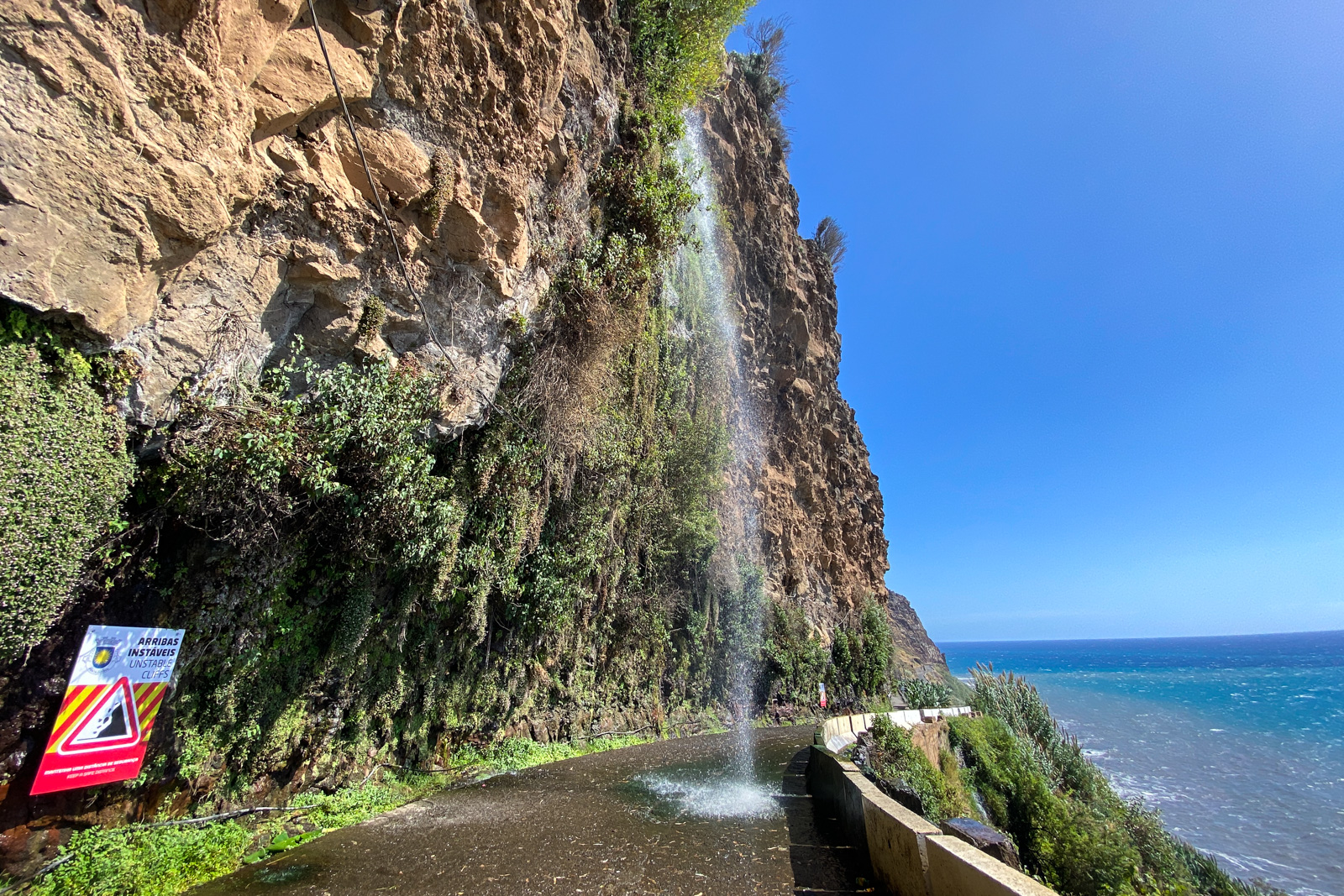 Day 5 – Levada das 25 Fontes & Cascata do Risco
Today the most famous hike is on the program, to casscata do Risco and the 25 Fontes (1 waterfall with 25 streams). The hike has nice views but is less beautiful than previous ones. It is mostly descending and walking down stairs with mobs of large groups. Casata do Risco is very beautiful and is known as the highest waterfall in Madeira. Definitely do the short detour and only then walk to the 25 Fontes. By the way, this one is beautiful and we have lunch on the spot. Locally the hike is not super special, the end is a highlight of the day though. In total we have been on the road for 4 hours incl lunch and taking pictures.

We take the road back via Calheta and only now see the consequences of the forest fires on Madeira, October 2023. Too bad someone saw fit to light these, why?!!!! The fire has made it to the village and we sometimes see a tree stump still smoldering. Sound there rain predicted for tomorrow!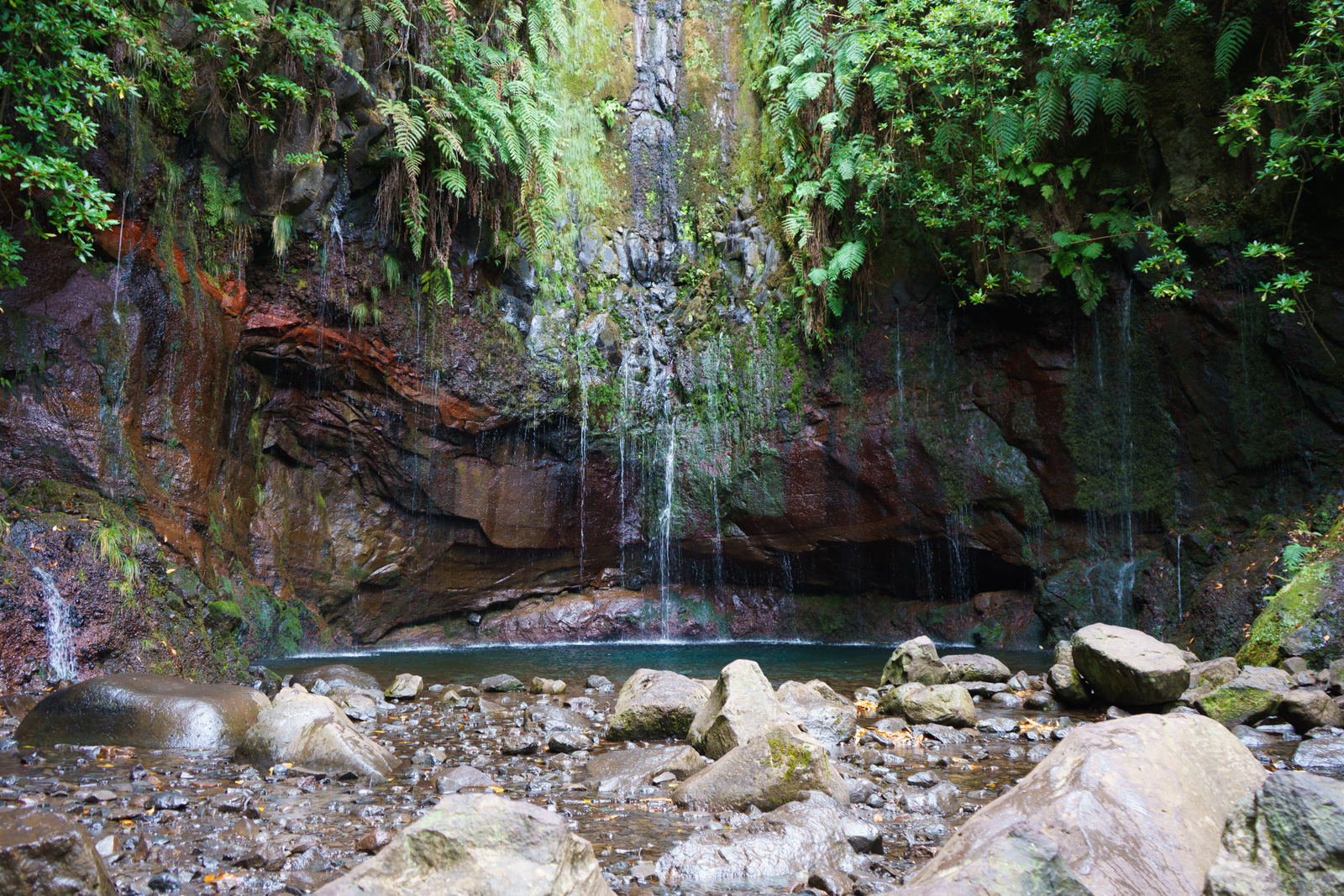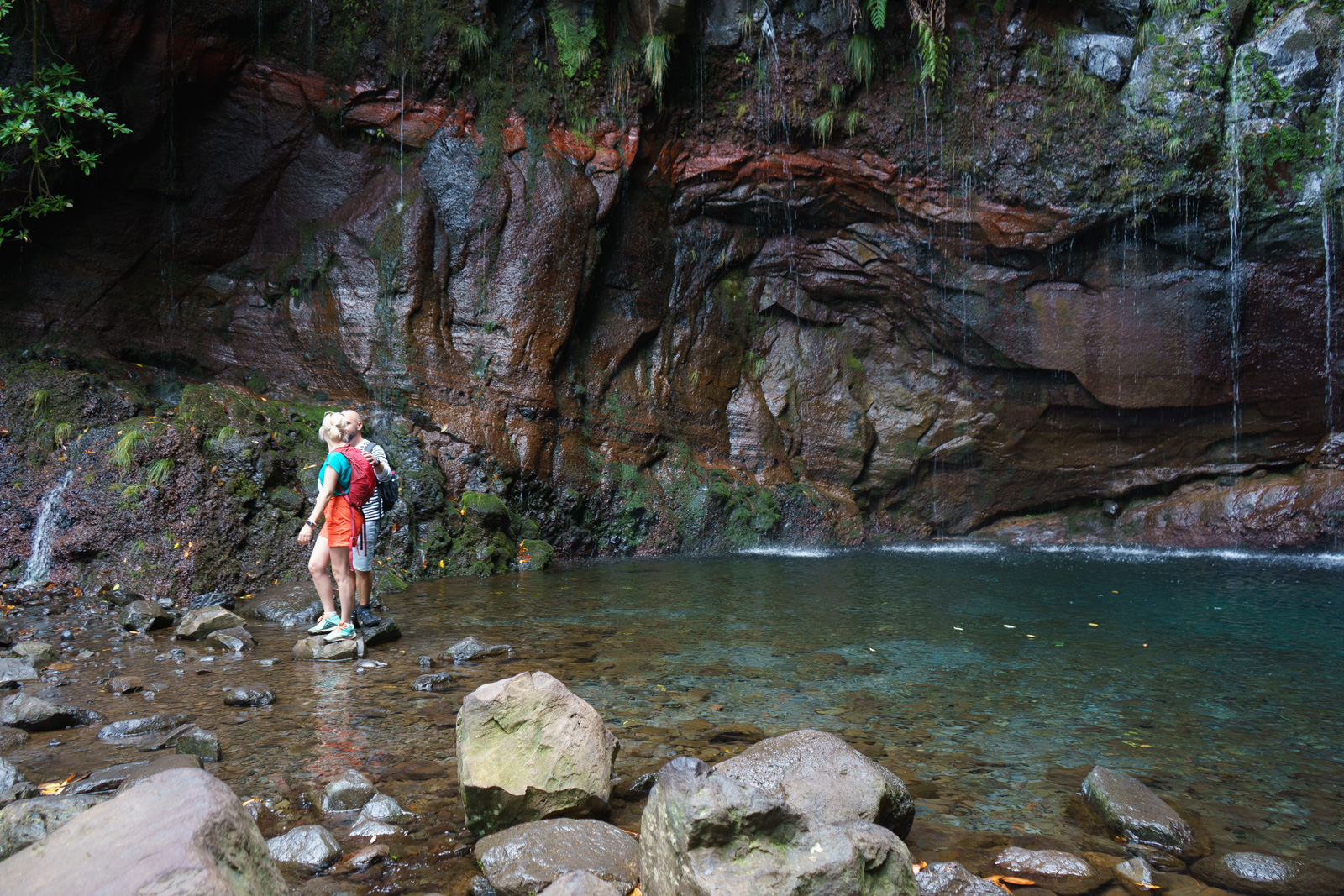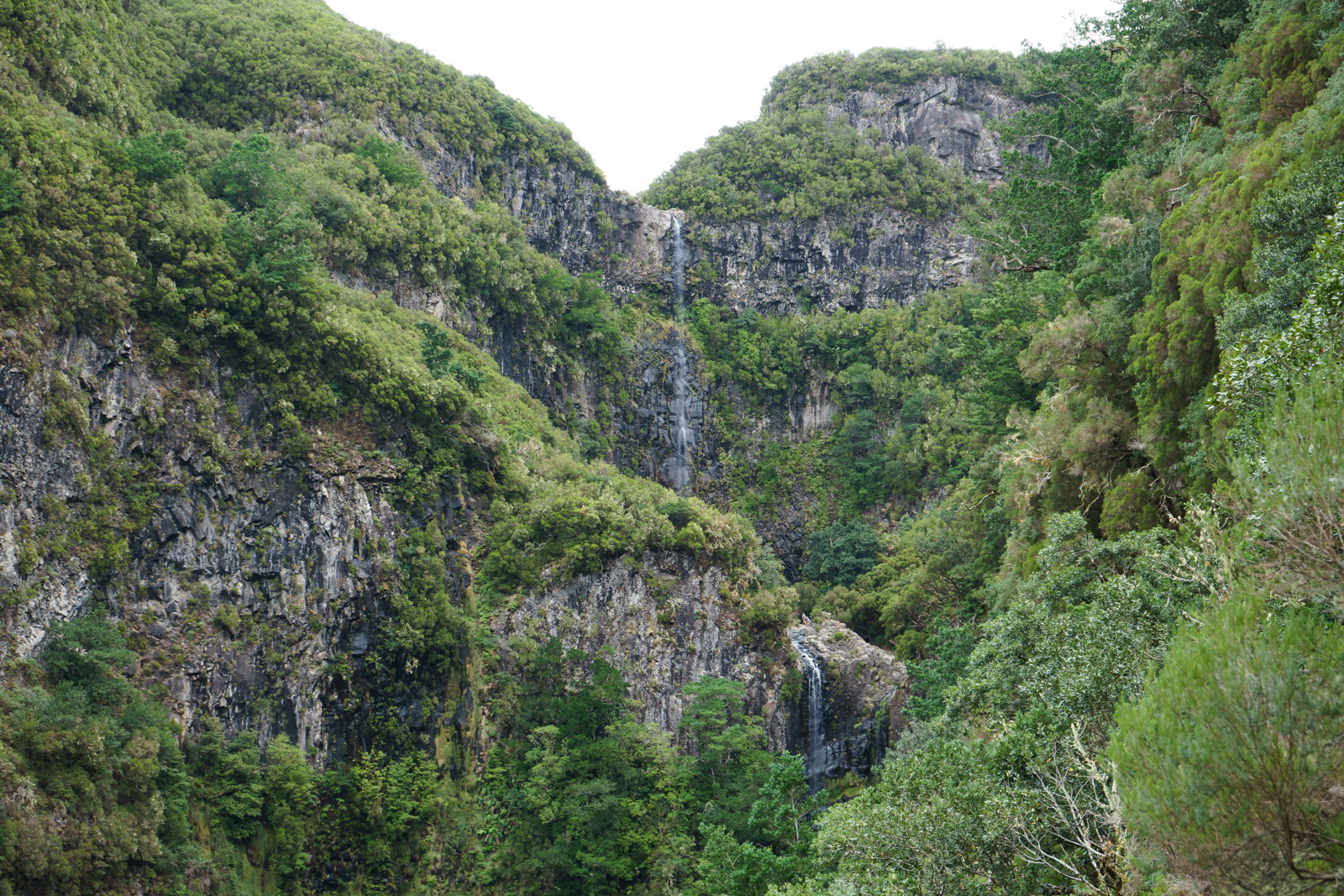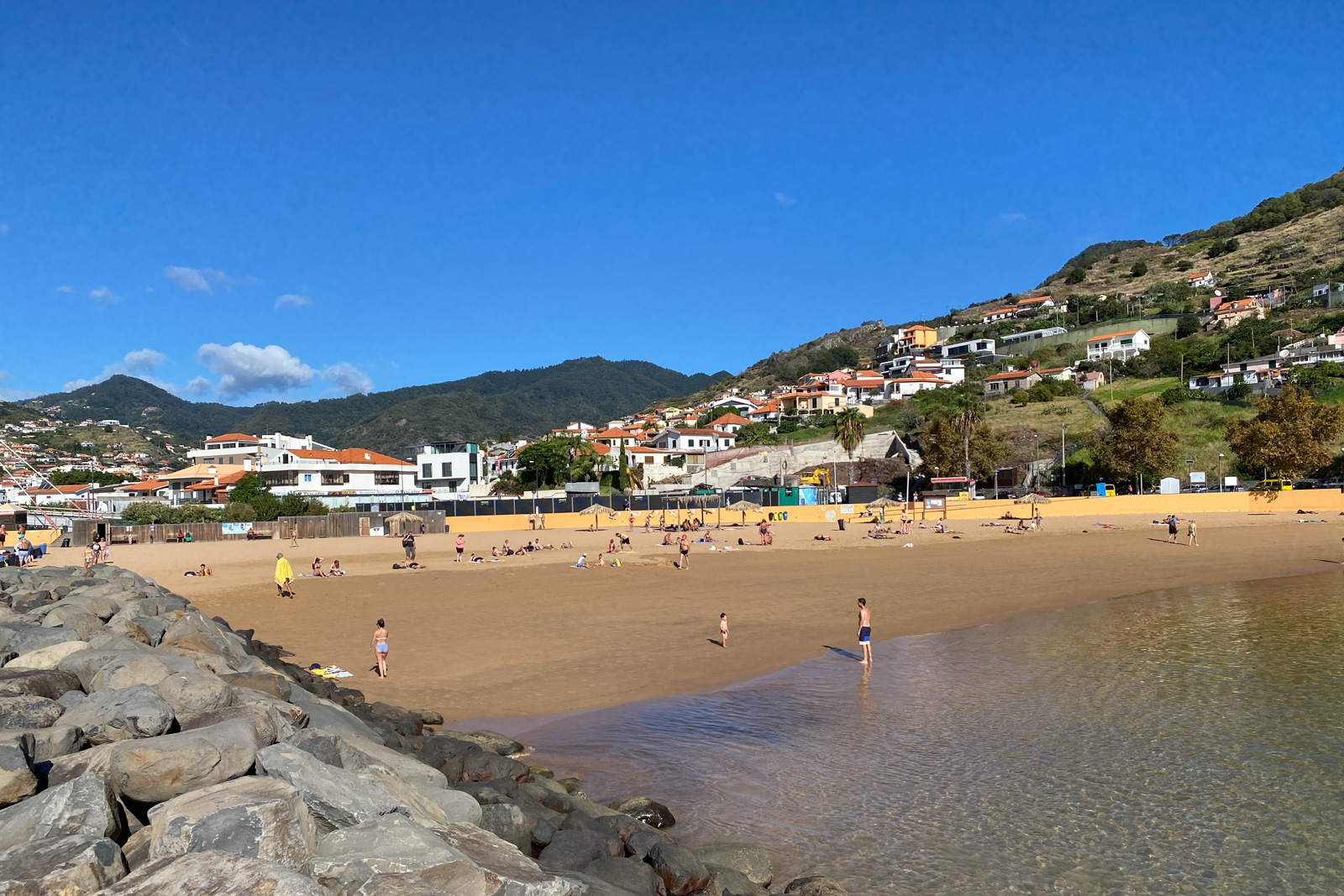 Day 6 – Beach Machico
It was supposed to rain today but the sun is shining and it's 28C.
All day we sit on Madeira's only yellow sand beach, in Machico, 15 minutes' drive from our hotel. Really lovely, we should have discovered that earlier. Also very many nice and too cheap restaurants. No idea how everything can be so cheap here. Eating with two under or around 30 euros!!! Tomorrow we will eat here again.
Day 7 – Two hidden waterfalls
After a night of rain, you would say there should be plenty of water in the falls. A 30-minute drive away sits the waterfall agua d'Alto, near Faial. A nice and short walk past all kinds of bushes and trees with fruits and vegetables that we are not all familiar with. It takes some searching but enjoying nature the valley ends in a bowl. This is where the waterfall should have been. Unfortunately..... However, the place is very beautiful and we do not regret it.

On to the second waterfall, with the same name, but this time in Santana. Again a short hike and this time there is a fair amount of water. A pleasure to behold and we have a pleasant conversation with an Italian beauty.
We end the day at Machico beach again but now it is colder, more wind and less sun. Still, I burn a little.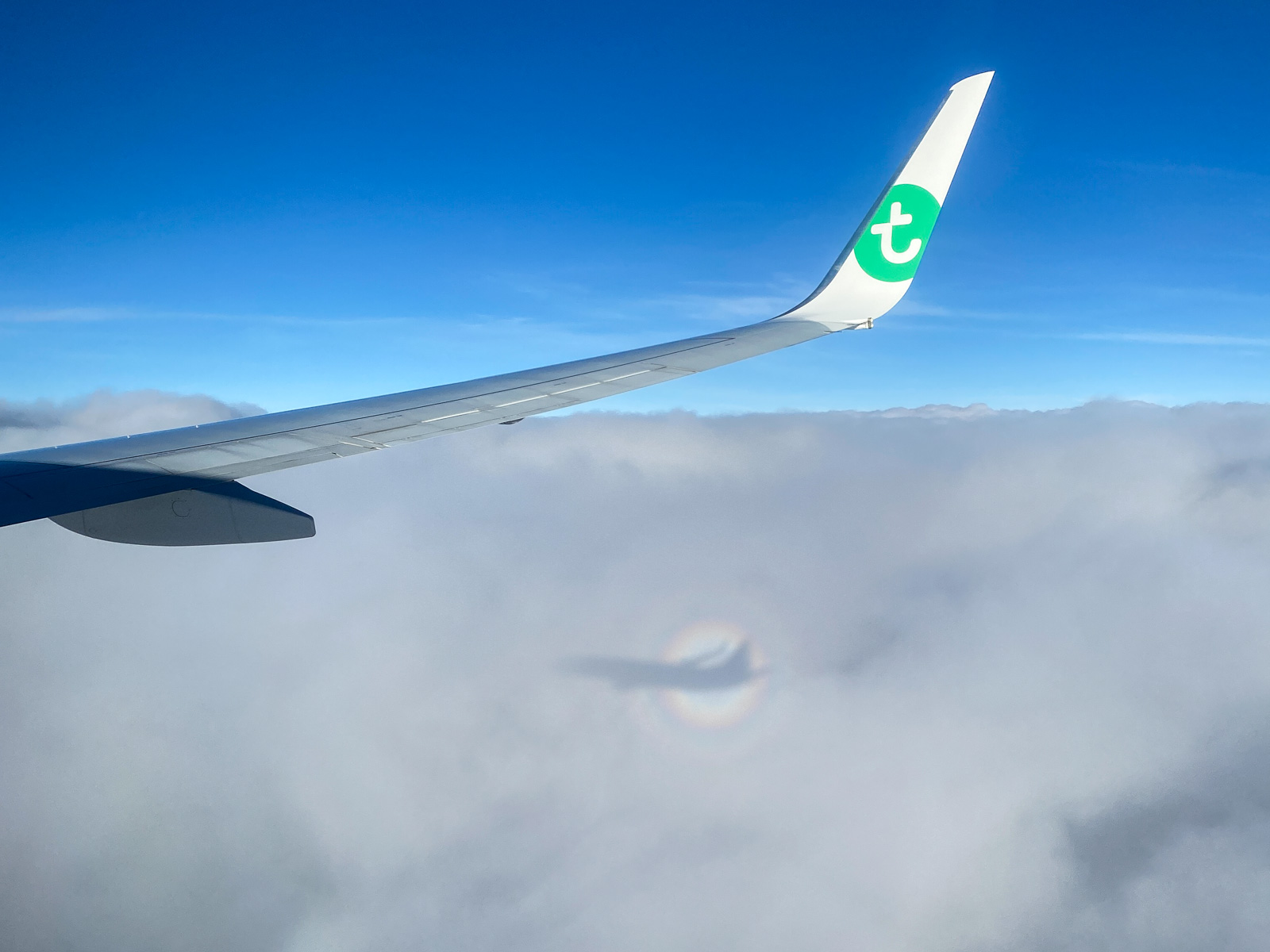 Day 8 – Back home: Funchal>Amsterdam
All in all, we had a fine 8 and still managed to visit some beautiful waterfalls in Madeira. Perhaps another visit in June when there are more flowers and we will hopefully see more water in the waterfalls.

If I can find a cheap flight I certainly want to go back early in teh season, after a rainy period. I know there are great waterfalls on Madeira but I haven't seen them yet!