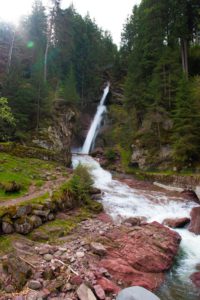 Cascate di Cavalese is a gorgeous waterfall near Cavalese in the region Trentino – Alto Adige (Südtirol), Italy.
The waterfall is near highway ss12 between Bolzano and Trenti. It is only a 45-50 minute drive from Bolzano or Trento.
In Cavalese drive south to Masi di Cavalese until you reach a roundabout near the river Avisio. Turn right here (sp232) and follow the river until you see a sign "cascata" at the left side of the road. Turn left and park the car at the parking (gps 46.278098, 11.451948). The parking is directly at the bottom of the waterfall Cascate di Cavalese.
You will have good view from the left side of the parking or from the wooden pedestrian bridge in front of Cascate di Cavalese. At the time I visited Cascate di Cavalese the bridge and the path up to Val Moena was barricaded. Probably there was a landslide because of bad weather earlier. Normally it is a nice place for walking or just to enjoy the waterfall and have a picnic.
The river Rio di Val Moena drops down in two stages creating a rare shape in its fall. The part of Cascate di Cavale drops down in a singles drop where after the water spreads itself in the shape of a fan. Although Cascate di Cavales is only 20-30 meter high, the waterfall can change into a thunderous creature after heavy rainfall.
Best period to visit Cascate di Cavale is late springtime or early in the summer when snow is melting down from the mountain Cimon di val Moena (2.484 m).