Eas a' Bhradain
(Blackhills waterfall)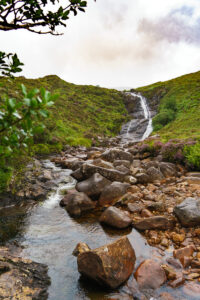 Eas a' Bhradain is a waterfall along road A87 on the Isle of Skye (Scotland), between Dunan and Sligachan, the main route from the Skye Bridge to Portree. The Isle of Skye is a very popular tourist destination and many people drive by Eas a' Bhradain (the English name is Blackhills waterfall). It is a shame because it is easy to reach and there is a parking (gps 57.264295, -6.090977), almost in front of the waterfall.
From the parking you just have to cross the road to get the best views on Eas a' Bhradain. Although it isn't a very tall waterfall, it can be a very scenic waterfall. Unfortunately it rained when we visited Eas a' Bhradain, in the summer of 2023. The path to the base of the waterfall was very muddy and we stopped at a distance. I think with nice wetter you can make beautiful pictures of Eas a' Bhradain.
The name "Eas a' Bhradain" is Gaelic and means waterfall of the salmon.
This was teh first waterfall we encountered when heading to our Pod near Portree. Many waterfalls will follow and the one I liked most (also the most touristic one) is the Fairy Pools waterfall. These are a must to visit!