Chasing waterfalls in Northern Spain
---
July 2019, by Olaf Helwig
---
Spain is not really known for its waterfalls, but turned out to be a wonderful location. The waterfalls in Spain that I have discovered is, I think, only 70% of the waterfalls in Spain. We decided to go to northern Spain in the summer of 2019, starting at Rialp / Sort in the Pyrenees.
A beautiful scenery with many active sports such as rafting and canyoning (both done). But there are also some nice waterfalls nearby. Cascada de Gerber was a visit worthwhile and is the tallest waterfall in the direct area.
After three days we headed west towards Benasque, again a beautiful area with many waterfalls. I think the highlight was a visit to the valley of the three waterfalls (les tres cascadas) with Cascada d'Ardonés as the most beautiful waterfall.
The day ends in Torla where the following day the climax of our holiday will follow: a walk (of 6 hours) in "Parque Nacional De Ordesa Y Monte Perdido". The Arazas river is full of waterfalls of the outer category, too many to list them all. But the walk to the largest waterfall Cascada de la Cola de Caballo (110 meters) leads along:
Cascada de Arripas> Cascada del Estrecho / Cascada de la Cueva> Cascada Gradas de Soaso and a number of small waterfalls.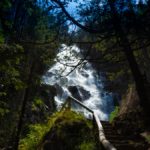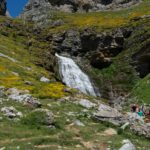 This walk is paradise for me. Because it was our family vacation I could not visit all the waterfalls in the region. Unfortunately, the trip then continued to Burgos where towards Bilbao there are also a number of large waterfalls. At least if there had been water in it. The most famous one is Salto del Nervion. Even though the walk was not a punishment (super beautiful views), with water in the waterfall my vacation should have been perfect. Autumn or spring may have been a better period.
Finally our trip went to Oviedo and the mountain range Picos de Europa. Many small waterfalls in the rivers but at Covadonga I found a 10 meter high waterfall near the Basilic… without a name. I named it Cascada de Covadonga.
After 3 weeks our holiday was over, good luck with the weather but I would have liked to see a little more waterfalls. The conclusion is that Spain is indeed a country with exceptionally beautiful waterfalls.