---
About waterfalls in Europe and this website
---
Everybody loves waterfalls. I often get the question why I am addicted to waterfalls. They don't understand why I am so obsessed. The answer is easy: I am aware of the beauty, the power or the magic of waterfalls in general. If there is a waterfall nearby somebody's holiday location, they certainly will visit this waterfall. Everybody loves waterfalls. It isn't only the waterfall that attract people but waterfalls are generally located in a beautiful scenery. The thing people certainly will like.
Because I want to make people just as enthusiastic as I am, I made this website. For me there is only one goal: to provide people with travel information so it is easier and more fun to visit a (certain) waterfall.
I started with a website with all waterfalls in the world but already in the beginning I realized that was to much. Besides, there are so many beautiful waterfalls in Europe that I changed my focus.
Still it is almost impossible to visit all waterfalls in Europe by myself. I ask people to share information or pictures of waterfalls I still haven't visited. Everybody can send me a message with questions, information or pictures using my contact form.
My first visit to a waterfall that I am aware of was the Rheinfall at Schaffhausen in Switzerland. I was 7 or 8 years old ( my birthday is in the holiday period) and there are two things I can remember: the incredible power of the water and the many trout swimming under a pedestrian bridge. I think this was the first moment I got a little infected with the waterfall virus.
The moment I really got excited was after my visit to Norway, 15 years ago. The scenery was so gorgeous and at every corner it was an oh and an ah. Norway is famous because of its waterfalls and there are lots of them. Some of them are really powerful and waterfalls in Norway belong to the highest waterfalls in the world. Maybe is that the reason that I visited over a 200 waterfalls (maybe even more???) in Norway.
From then on I visited several other countries chasing waterfalls with Iceland as an absolute highlight. But there are also awesome waterfalls in the other countries I visited like: Italy, Spain, Austria, Switzerland, France, Slovenia, Sweden, Germany and Croatia.
There are approximately 2.000 waterfalls listed in my database with lots of (Youtube) video's and more then 3.000 pictures of waterfalls in Europe!!!! Most of them taken in Norway.
Every country has one page with general information, a list with all waterfalls in that country in Alphabetic order (but you can change your preference), a google map with all waterfalls in that country and some lists with the highest waterfall, the most powerful waterfall and the most beautiful waterfall. If you want to see all waterfalls in Europe in a list, that is also possible. In the menu choose for "all waterfalls".
I hope you enjoy my website and please place a message or comment at one of my posts (waterfalls).
---
Alternative Corona holiday in Germany & Austria
July/August 2020, by Olaf Helwig
---
This year no fancy holiday but a two week holiday to Bavaria and the Salzburg region, to be precise the Halstatter see. We decided to start at Kempten in Bavaria, a perfect base (and nice town) for exploring the region.
There are several nice waterfalls in this part of Germany, especially around Oberstdorf. The first day we rented electric bikes to go in the Oytal and the Gerstrubental, both with a few waterfalls. I liked the Hölltobel wasserfal and the Stuibenfall most.
Normally it is quite a long hike to the end of the Gerstrubental and then to the Oytal but with an electric bike life seems suddenly much easier.

The next day I wanted to show my family the nice castle "Neuschwanstein" with a nice gorge (nice walk), a huge suspension bridge and if this isn't enough a gorgeous waterfall, the Pöllatfall. Very nice for a daytrip and on the way back don't forget to visit the historical town Füssen!
Our trip went to Austria to Hallstatt, known for its nice views but it is a paradise for waterfall lovers. In Hallstatt itself you can see a nice waterfall at the mountainside, the Mühlbach wasserfall.
Even more impressive, and quite unknown, are the six waterfalls in the Echerntal at Hallstatt. I really don't know why so few people visit these waterfalls. This was the highlight of my holiday.
First I was treated to a tall waterfall with a respectable volume, the Schleierfall. A little further three waterfalls join each other at one point, so impressive. One of the waterfalls was so incredible powerful, the Waldbachstrub wasserfall.
Afterwards I continued my way up along the Glacier garden with an even more powerful waterfall, the Dürrenbach wasserfall. And finally at the bridge above the Waldbachstrub wasserfall there was another immense powerful waterfall I called the upper Waldbachstrub wasserfall.
I visited quite a lot waterfalls, some nice, some disappointing but there is one gorge with several gorgeous waterfalls you shouldn't miss, the Liechtensteinklamm wasserfall with a 50 meter single drop at the end. The gorge itself is one of the most beautiful gorges in Austria and the walk is easy and pleasant.
I almost forgot to mention one of the most photogenic waterfalls, the Gollinger wasserfall, not far from Salzburg. This waterfall is so beautiful. You will be treated to a nice cosy waterfall at the bottom and a bigger single drop uphill. Just watch the pictures to see if I am right.

I already decided that Austria is a good option for a summer holiday next year….
---
Chasing winter waterfalls in Germany & Austria
February 2020, by Olaf Helwig
---
Because I wasn't allowed to ski, due to a shoulder injury. We were on a family ski holiday in Garmisch Partenkirchen (Bavaria-Germany) and I decided to visit some waterfalls and gorges in the direct proximity. Unfortunately I got sick and after three day when I recovered I had to change plans. I only visited two waterfalls but to my surprise there was more water in the rivers then I expected. I visited two waterfalls:
– Häselgehr wasserfall (Austria)
– Kuhflucht Wasserfälle (Germany)

Both waterfalls are near Garmisch Partenkirchen and are easy to reach. The first waterfall I visited, before a serious snow shower, was the Häselgehr wasserfall. After 20 minutes I reached the parking close to the waterfall. From the parking it is a 5 minute walk to the base of the Häselgehr wasserfall. A very nice waterfall with several nice viewpoints. In summertime you can swim in the pool in front of the waterfall.It is also a perfect waterfall to visit with children. They will love the pool and the surrounding.
Read more on:Häselgehr wasserfall
The second waterfall I visited was closer to Garmisch Partenkirchen, at Farchant, a 10-15 minute drive. The Kuhflucht Wasserfälle is sometimes mentioned as the highest waterfall in Germany but there are higher waterfalls. Nevertheless I was surprised by the amount of water coming down the waterfalls. I expected less in wintertime. Beside that there where approximately seven waterfalls to be admired.
From the parking in Farchant (there are signs) it is a 10 minute walk until you see the first small waterfall in the river. From then on there are several other small waterfall until you reach the bridge. From here you can see the bigger drops. You can walk a little further up for a fantastic viewpoint. I didn't went further up to the source of the Kuhflucht Wasserfälle, but this drop is also very beautiful. A waterfall worthwhile to visit!
Read more on: Kuhflucht Wasserfälle

---
Chasing waterfalls in Northern Spain
July 2019, by Olaf Helwig
---
Spain is not really known for its waterfalls, but turned out to be a wonderful location. The waterfalls in Spain that I have discovered is, I think, only 70% of the waterfalls in Spain. We decided to go to northern Spain in the summer of 2019, starting at Rialp / Sort in the Pyrenees.
A beautiful scenery with many active sports such as rafting and canyoning (both done). But there are also some nice waterfalls nearby. Cascada de Gerber was a visit worthwhile and is the tallest waterfall in the direct area.
After three days we headed west towards Benasque, again a beautiful area with many waterfalls. I think the highlight was a visit to the valley of the three waterfalls (les tres cascadas) with Cascada d'Ardonés as the most beautiful waterfall.
The day ends in Torla where the following day the climax of our holiday will follow: a walk (of 6 hours) in "Parque Nacional De Ordesa Y Monte Perdido". The Arazas river is full of waterfalls of the outer category, too many to list them all. But the walk to the largest waterfall Cascada de la Cola de Caballo (110 meters) leads along:
Cascada de Arripas> Cascada del Estrecho / Cascada de la Cueva> Cascada Gradas de Soaso and a number of small waterfalls.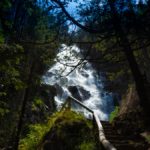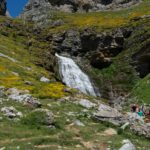 This walk is paradise for me. Because it was our family vacation I could not visit all the waterfalls in the region. Unfortunately, the trip then continued to Burgos where towards Bilbao there are also a number of large waterfalls. At least if there had been water in it. The most famous one is Salto del Nervion. Even though the walk was not a punishment (super beautiful views), with water in the waterfall my vacation should have been perfect. Autumn or spring may have been a better period.
Finally our trip went to Oviedo and the mountain range Picos de Europa. Many small waterfalls in the rivers but at Covadonga I found a 10 meter high waterfall near the Basilic… without a name. I named it Cascada de Covadonga.
After 3 weeks our holiday was over, good luck with the weather but I would have liked to see a little more waterfalls. The conclusion is that Spain is indeed a country with exceptionally beautiful waterfalls.
---
Waterfalls in the northern parts of Norway
August 2018, by Olaf Helwig
---
Norway is my favourite country regarding waterfalls. Only I had never been more northern than Trondheim. From the south (where the ferry from the mainland of Europe arrives) it is a long drive so we decided to take an airplane to Trondheim and then travel by car to Tromsø. A long drive that mainly leads along road E6.
Already near Trondheim there are quite a few beautiful waterfalls to see, starting at Storfossen, near Trondheim airport. A beautiful waterfall with even more small waterfalls downstream. A nice start of our waterfall journey. Due to a lack of time we have to skip the Sisselfossen (a bit more to the north). That is the disadvantage if you book accommodations in advance.
Next day we drove along the Formofossen (very photogenic) and made a small detour to the Grongstadfossen and Skrøyvstadfossen. Nice to see but I knew the highlight of our journey is yet to come.

The journey continues to Laksforsen and to Svartisen National park with the beautiful Bredekfossen. Be aware of the great distances we drive, but always with a nice scenery.
During our walk to Bredekfossen it rains a bit but we are prepared. Photos become a little less beautiful than I had hoped…
Fortunately this was made up when went for a hike to Værivassfossen (Litlverivassforsen) in Rago Nasjonalpark. Definitely a walk that belongs to my top 5 most beautiful hikes ever!!! A tough walk though.
After this there will be no impressive waterfalls for a long time until we drove much more to the north towards Sweden on the E8. A little further lies the beautiful Rovijokfossen. You do not see it lying along the E8 but it is really there. Don't forget to stop.
We drove back to Skibotn and went to the Kafjorddalen where there an unique waterfall is located where you can Bungee jump (in weekends), called Gorzifossen. When you stand on the bridge over the canyon you look 120 meters down, a staggering sight. Very nice and unfortunately we were not there at the weekend….
The last highlight of our 10-day trip is a boat trip on the Reisaelva in Reisa Nasjonalpark. VERY expensive but also very beautiful with the photogenic Dissaltakfossen and the gigantic high and powerful Mollisfossen as the highlight. Perhaps the most beautiful waterfall in Norway.
I am not 100% sure whether it was worth the trip and I am talking about the exorbitantly high price that was attached to this trip. The boat trip alone cost 110 euros per person and the car delivered to another location 600 euros. Accommodations also seem more expensive than in the south of Norway and in my opinion everything was much more expensive than in the south.
I did take nice photos and collected a lot of useful travel information
---
Most beautiful waterfalls in Norway
November 2017, by Olaf Helwig
---
For over a year I am on a quest, searching the most beautiful waterfalls in Norway. I even started writing a book about the most beautiful waterfalls in Norway. But Norway is a big country with over 350 waterfalls, at least that is what I have listed in my database.
My first visit to Norway, chasing waterfalls ,was in 2003. Since 2016 I went to Norway several times only with one goal, gathering information for my book.
My last journey was in the summer of 2017 when I was in the mid-south of Norway for two weeks, starting in the Hemsedal and then working my way up north covering Norway from east to west. This resulted in 2.500 pictures and about 30 new waterfalls I didn't visited before. It is crazy, I know, how somebody get somehow, so infected with the waterfall virus.
I want to share my information and pictures so that people can enjoy waterfalls as much as I do. In the two weeks time I was in Norway there were several highlights. The first one, on the first day, was Rjukandefossen. This is a relative small waterfall but oh so photogenic. It is almost impossible to make a plain picture. Everything fits when making pictures of Rjukandefossen.

I try to keep it short, but there is to much to tell. The second day I was heading to the Utladalen near Øvre Årdal. This is heaven for waterfall lovers and in my opinion one of the most beautiful hikes I ever made. At the parking you are overwhelmed by an extremely powerful waterfall called Hjellefossen. Twenty minutes further into the Utladalen you can enjoy another gorgeous and powerful waterfall, Avdalsfossen. A little bit further in the river Utla there is a small but oh so beautiful waterfall, Høljafossen with emerald green colors. After that it is waiting for the highlight of the hike, the amazing Vettisfossen, dropping down with great force over 275 meter (one of the biggest single drop waterfall in Norway).
I tried to decide what the next highlight was, but every day was a highlight. I like the region around the one of the biggest glaciers in Europe, Jostedalsbreen, very much. A glacier is always good for a lot of waterfalls. I really love the Oldedalen because of the views, Volefossen in front of a glacier and at the end of the valley the amazing Briksdalsbreen with one of the most photographed waterfall in Norway, Kleivafossen.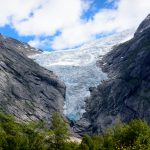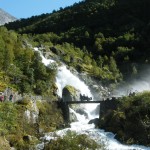 From there I went further north and visited the Geirangerfjord for the fifth time. This is definitely a place I want to live. Beside it is a gorgeous fjord and there are so many waterfalls is is also the relaxing atmosphere you breath that I like so much. People are fishing and eat their fish for diner, how perfect can it be. Unfortunately I didn't brought fishing tod with me.
Did you know Google keeps track (with most people) where you have been every day of the year. You can disable this feature on your mobile but I like it. I even can see where I was years ago, in case if you forgot. It is called Google Timeline. It is not always accurate but most of the time you get a good idea of where you have been and what you have done.
---
Waterfalls of Finland
June 2017, by Jussi Laine
---
Have you ever heard about the waterfalls of Finland? If not, you aren't the first one.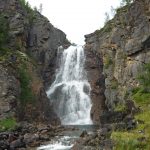 Actually, most of the Finnish waterfalls have remained outside public
awareness until recently. Rare people, even among the Finns, have known the
waterfalls of this (more or less flat) northern country that celebrates 100
years of independence this year.
It might then come as a surprise to you that there are some spectacular and
even magnificent waterfalls in Finland. Nothing like Niagara Falls, or even
Mollisfossen, but beautiful on their own. Some of them are bigger, some
smaller, but all of them are refreshing and unique nature sights. We just need to know, where to find them!
Actually it's easy now, as there is a relatively new website available,
called *Suomen Vesiputoukset* ("Waterfalls of Finland"). The site offers
you hundreds of photos, dozens of videos and lots of information about the
Finnish waterfalls, including their physical data, accessibility and driving instructions.
So, why not make a holiday trip to Finland this summer, to see some of our
most beautiful treasures of flowing water? Besides waterfalls, there are
rugged forests, thousands of lakes and magnificent fells in our country. Just come and see them.
Jussi Laine, founder of "Waterfalls of Finland"
www.suomenvesiputoukset.fi/en
Twitter: @vesiputoukset
---
Exploring Iceland's Waterfalls
April 2017, by David Britnell
---
I spent 5 days in Iceland by myself circumnavigating the Ring Road, along with a few detours, and was able to see some incredible waterfalls. Below are my favorite waterfalls I was able to visit, some tips on reaching them, and tips on how best to photograph waterfalls. I created daily vlogs that you can check out here.
Seljalandsfoss
I arrived at Seljalandsfoss just before sunrise which is great timing for two reasons when shooting a waterfall like this. For one I had the place almost completely to myself, making it very easy to get good wide shots without crowds. Second it meant that the light wasn't too harsh making for nicer pictures.

Skógafoss
I was very fortunate with the timing of my arrival here, the light was just right to create some incredible rainbows in the spray coming from the waterfall. One of my biggest tips for photographing a popular location is to find a different angle to shoot from.


Goðafoss
Just after sunrise I drove around a corner, saw this waterfall, and knew I had to stop. Something I recommend having for shooting waterfalls is good Polarizing and ND filters.

Dynjandifoss
I came across this waterfall just as the sun was setting and decided to spend the night. This is a great option as well if you have time as it allows you to shoot it during sunset and sunrise.

Kirkjufellsfoss
This is one of Iceland's most popular waterfalls and for good reason, it is absolutely beautiful and the neighboring Kirkjufell Mounain is stunning as well. I had scheduled a shoot here with Kyle and Kelly who were on their honeymoon and we had a great time getting some gorgeous and unique shots. Parking is very difficult here so I would recommend allowing plenty of time for a visit.

Brúarfoss
This was definitely the most difficult to find but well worth it. The color was stunning and because it was so secluded there weren't any crowds.
instagram.com/djbritnell
www.djbritnell.com
www.britnellphotography.com
---
Will Glacier waterfalls disappear?
November 2016, by Olaf Helwig
---
There is a lot of research done what the effect of global warming is on glaciers. The amount of greenhouse gases (carbon dioxide is one of them) is rapidly growing. The average worldwide temperature has risen between 0.4 and 0.8 °C over the past century.
Places where the consequences of global warming is clearly visible is on the polar ice cap and glaciers. Especially glaciers in Austria are melting rapidly.
Many waterfalls (the best ones) are fed by melting ice from glaciers in the summer months. But for how long?
In 2015 I was in Austria and the temperature was for weeks above the 30C. I was already worried about the rapidly melting of glaciers, but 2015 was a very bad year.
A higher CO2 emissions and the global warming has dramatic consequences. After some research I discovered the following:
The rainfall in Austria, in the last two years, was approximately 40% lower than previous years and in summertime there was an enormous increase in temperatures. With these two facts you can make a conclusion that this is not good for the existence of glaciers.
One of the most famous waterfalls in Europe is supplied by a small glacier, the Krimmler Kees. The Krimmler Wasserfälle is one of the most beautiful and powerful waterfalls in Austria and I enjoy it every time (five time until now) I visited the waterfalls. The only question is for how long?
On the short term I don't worry to much, but the power of the Krimmler Wasserfälle will decrease in a high temp in in a few decades. That is also the reason why I post this photo of the Krimmler Wasserfälle, enjoy the waterfall now it is still possible.
If you wan't to react or want to add something to this article please email me on the contact page.
---
Superb waterfall road Norway
July/August 2016, by Olaf Helwig
---
If you don't have much time but you want to see several extremely beautiful waterfalls, then road r13 in Norway is without a doubt the best road you can take. It depends on how much time you have and if you like hiking what I should recommend.
For people who don't want to spend much time with firm hikes but like driving: start at the Langfoss (near Etne), at road E134. From here drive east to Skare and then north to Odda on to the Voringfossen (road 7) as endpoint.
On this route of 123 kilometer you drive along at least eight waterfalls that are in my top 20-most beautiful waterfalls in Norway:
Langfoss>Skare>Espelandsfossen & Låtefossen>Vidfossen>Strandsfoss & Tjørnadalsfossen (10 min walk)>Odda>Ædnafossen>Skrikjofossen>Vøringsfossen.
There are some alternative side roads you can take to visit more waterfalls:
I don't think there is an area or a road with such a high density of waterfalls.

---
Vettisfossen, the most beautiful waterfall in Norway
June 2016, by Olaf Helwig
---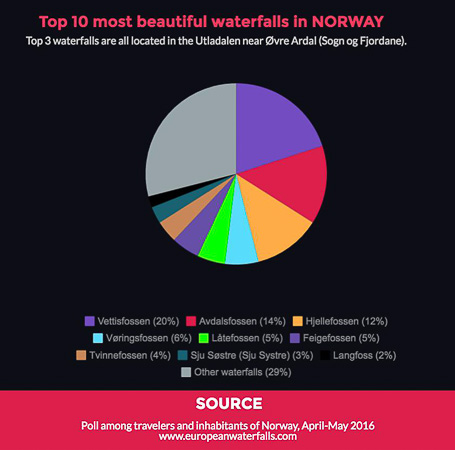 I am writing/creating a book about the most beautiful waterfalls in Norway but I want to create my book with suggestions from readers. I think it is better to let people decide which waterfalls are favorite, instead of a personal opinion.
After an inquiry (poll) in the months April and May 2016, among travelers and inhabitants of Norway, 20% of the people rated the Vettisfossen as the most beautiful waterfall in Norway. That is 6% more then the the number two "most beautiful waterfall in Norway, the Avdalsfossen. Both waterfalls are located in the Utladalen near the town of Øvre Ardal (Sogn og Fjordane).
For more informations or statistics about the poll "most beautiful waterfalls in Norway", please contact me on the contact page.
---
Renewed website "European waterfalls"
March 2016, by Olaf Helwig
---
It took a while, but after various setbacks making a new design for my "European waterfalls", we managed to make a new website with more features and which is more transparent. Waterfalls are now easier to find through a search box on every page and in the sidebar you can directly select a country. Furthermore waterfalls can also be selected by region (of a country) and the listing on a page is improved.
Soon more pages will be added such as photo pages per country, general information about waterfalls by country, top 10 lists of highest waterfalls in a country, the most beautiful waterfalls in a country and the most powerful waterfalls in a country.
All information I provide has the intension to inspire people and to give practical information such as; which waterfall is beautiful, where is a beautiful waterfall, how to get to a waterfall, how long a walk takes and is it easy to visit a waterfall with children. I also will give tips when the best time is to visit waterfalls and where viewpoints are.
At a later stage I will also add videos of several waterfalls I visited. With pictures and video you will have a better picture which waterfalls are interesting and worthwhile to visit.
Unfortunately not each waterfall is provided with complete information, but this is a process that can take years. There are more than 2.000 waterfalls in my database and it takes time to do research and to complete all information. Especially if it is in a language that does not use a western/latin alphabet where characters are not recognizable. At this moment information in the following countries are reasonable in order: Norway, Iceland, Sweden, Austria, Italy, Spain, France, Croatia and Slovenia. The information about waterfalls in Switzerland and the United Kingdom are completed for approximately 50%. There is a long way to go.
---
Waterfalls in Croatia & Austria
July 2015, by Olaf Helwig
---
The summer of 2015 is an extremely hot summer in Europe. We (my wife and daughter) planned a tour along several capitols in Eastern Europe, Croatia and Austria. The first stop is Prague, a beautiful city with a lot of culture. After that Vienna, Budapest (my favourite city) and then the coast of Croatia. It is a summer with a long period with temperatures between 32-37C. The coolness of sea is a relief and we enjoyed the cheap food and being lazy.
From Sibenek (close to our stay) it is a short drive to the national park Krka with its numerous waterfalls. On Wednesday the first stop was the most beautiful waterfall in Croatia called Skradinski Buk. With a bus you have to drive from the parking to the entry of the park. After that a short (but very warm) walk will take you to the first viewpoint of the upper part of Skradinski Buk. After a short descent you will arrive at a bridge in front of the waterfall. The view is magnificent and it is possible to swim in front of Skradinski Buk. The waterfall is 12 meters high and 40 meters wide.
After enjoying the view and cooling down in the water we decided to drive further following the river Krka to the source: Krčić Slap (near Knin). Unfortunately Krčić Slap is only flowing after a long wet period. Nevertheless a perfect site to visit and again a nice place to swim.
We drove back to Sibenik visiting several waterfalls along the route (but not all): Brljana Slap and Manojlovac Slap. Again beautiful waterfalls, a visit worthwhile. We missed some waterfalls because of a lack of preparation.
The following week we proceded our long journey to north to Austria, but the temperature didn't lowered. I stayed in Austria for 6 days especially for searching waterfalls in western Tyrol and Vorarlberg. Without a doubt my visit to the Krimmler Wasserfälle was the highlight of my stay in Austria. A beautiful walk leads along several drops, together called the Krimmler Wasserfälle. The Krimmler Wasserfälle is the most beautiful and most powerful waterfall in Austria with a big change of seeing rainbows in the enormous powerful waterfalls.
After this I pulled westward to the Stubai Valley where I first came along the beautiful Mischbachfall, visible from the roadside. A short walk takes you to a good viewpoint, perfect for taking pictures. I was too impatient to climb up to another viewpoint so I drove on to the gigantic Grawafall, one of the most beautiful waterfalls in Austria. The force of the water was visible from a distance. A short walk takes you to a platform where you enjoy the view in a wooden sun chair!
My next stop brings me to the Otztal with a lot of huge and beautiful waterfalls, highly recommended again. And with with (again) one of the most beautiful waterfalls in Austria: the Stuibenfall. Other big waterfalls were waiting for me down the valley: Lehnerfall, Tumpener wasserfall and Rotmoos wasserfall. There are too many waterfalls to mention them all, but the Otztal is one of the best valleys in Austria when you like waterfalls.
In addition to the Otztal, the Pitztal (with five waterfalls) is also worthwhile mentioning. The best waterfall I guess is the Pfitschebach wasserfall or maybe the Bichler wasserfall. Both are gorgeous waterfalls worthwhile visiting.
The next two days I headed to the region around Lech (Vorarlberg) with many, less powerful, waterfalls. But this will not mean those waterfalls were not gorgeous. Later on I will add an article specially about waterfall around Lech.
---
3 days Norway chasing waterfalls
May 2015, by Olaf Helwig
---
Because I usually have a two week holiday in May, in 2015 I wanted to go on a waterfall journey somewhere in Europe. I had three options: Norway, Slovenia/Italy or Austria. A few days before the start of my holiday, I watched the weather throughout Europe and Norway was the best option. Although the temperatures were not very high, May is normally one of the driest months. Later on I discovered that Springtime had been very cold and there wasn't much melted snow and ice in the rivers feeding all those waterfalls in Norway.
From the Netherlands I drove to the north of Denmark where a ferry leaves to Langesund in Norway (very cheap), some 150 kilometer south of Oslo. A perfect start for my trip, I thought … The weather was perfect, sunny and approximately 11C.
The first waterfall I wanted to visit was the 100 meter high Rjukanfossen in Rjukan / Tinn. This was the first waterfall with no water in it. A little bit disappointed or better disillusioned and angry with myself I drove like crazy to Roldal not far from the famous Langfoss. I stayed the night here.
The next day I was awake very early (it is short time dark in Norway in May) and at 8.15 in the morning I arrived at the Langfoss, which was still in the shadow, but I had no hurry. It was still cold and after an hour waiting for the sunrise I took several pictures.
I drove back to road 13, on to the Låtefossen/Espelandsfoss, Vidfossen, Tjornadalsfoss and all those other amazing waterfalls along road 13. My main goal was to walk to four huge waterfalls (Tveitafossen, Nyastølfossen, Nykkjesøyfossen and the most beautiful one Søtefossen) in the Husedalen near Kinsarvik. But again a big disappointment, there was no water in the otherwise mighty Tveitafossen. I did not made an effort look upstream because there simply was no water in the river.
I started to get the feeling that I would be disappointed more often. I decided to estimate which waterfall was worthwhile visiting and which waterfall I never visited. Fortunately the Ordalsfossen, Steindalsfossen and Fossen Bratte were quite a good choice and I was able to make beautiful pictures. Though I did have some trouble getting at the Ordalsfossen because of the amount of snow.
I had read that the waterfalls in the Geiranger Fjord were beautiful in May. A nice ride, but I had the time. I decided to stay at the campground down the Tvinnefossen, which otherwise was quite powerful, but definitely not at its best in May.
From now on everything would go differently than I had imagined. Several roads were closed and because my Norwegian was not too good, I was confronted with a closed road at roadblock. Maybe I should had prepared myself better for this journey! This happened twice to me and after visiting the Buldrefossen, buried under the snow, I decided to drive back to the Netherlands. Do not get me wrong, I also visited several waterfalls that were worthwhile (Stalheimsfossen / Sivlefossen, Kjelsfossen, Rjoandefossen, Turlifossen, Stodnafossen), but I think I got a little homesick to. Travelling alone has its advantage, but when getting disappointed several time there is nobody saying "what the heck, there are still so many beautiful things in Norway, just enjoy".
After 3 days of traveling through the south of Norway, where I drove more than 1.500 kilometer in Norway and again 1.600 kilometer to arrive in Norway, it was a damn expensive 3 days in Norway but looking back quite nice.