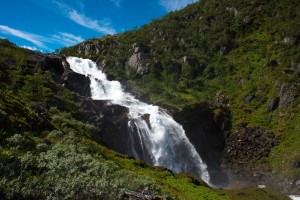 Hivjufossen is one of the most beautiful waterfalls in Buskerud located near Hovet (Hol) in the Hallingdal, Norway.
When driving 4 kilometer west of Hovet, on road Rv50, you see a sign "Hivjufossen" pointing to a big parking lot. There is a information board at the parking but still it is difficult to find the proper direction. You have to walk east (away from the bridge) along the river for a few minutes until you see a wooden sign at the other side of the road (on your right).
Here the trail to Hivjufossen begins with some steep parts in it. But you will be rewarded, after 30-40 minutes you arrive at a picnic spot with a clear view on the lower part of Hivjufossen (from a distance). The lower part has a single drop of 40 meter.
For the better views you have to continue. The trail goes further up (total ascend 350 m) with again some steep parts. After 30-40 minutes you can see the upper part. Walk a little bit further up where you have amazing views on the valley and to the other side into the Hivjudalen. There is no official trail, but you can ascend along the river to get a better view on Hivjufossen. But be careful, multiple accidents has happened with a deadly ending….!!!!
At the upper part of Hivjufossen you can walk a little further to lake Hivjuvatnet but you also can choose to walk further upstream along the river until you reach the most upper waterfall.
Best period to visit Hivjufossen is late spring and early summer when a lot of melted snow ends in the Hivjuvatnet that feeds the waterfall. in autumn there is a lot of rainfall, always good for a powerful Hivjufossen.
I visited Hivjufossen July 2016 for the first time and I liked the waterfall very much. first 9 pictures are mine and the last 2 three pictures are taken by Franka van der Pluijm of Birkelund Camping, a nice camping which is the perfect base for hiking in the area and to visit Hivjufossen.