The Myrafälle are a series of small cascades with a total descent of 125 meter.The Myrafälle are located at Muggendorf (Pernitz) in the region Niederösterreich, Austria.
The waterfalls are a tourist attraction and there is a parking especially for the Myrafälle. From Vienna drive south on highway A2. Take the exit to Pernitz and drive to Muggendorf. Near Muggendorf there are already signs for the parking. The are several parking lots but the most nearby is at gps 47.913961, 15.935242.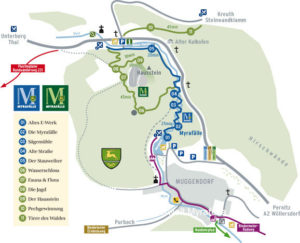 From the parking it is a short walk to the entrance where you have to pay admission. Now it is a short while until you see the first waterfall. Most people make a roundtrip along the river and then back via der Hausstein in approximately 2 hours.