Cascada de Gerber (sometimes named as Cascada del Gerber) is a big waterfall, east of Vielha, near Baqueira in the region Catalunya, Spain.
Driving from Sort to Vielha on road C-28 you can't miss Cascada de Gerber. At the left side of the road you already can see the waterfall from top to bottom. You have to drive a little bit further until the road goes up. In the first hairpin curve there is a parking at the left side of the road. It is a small parking but there is space for 4-5 cars.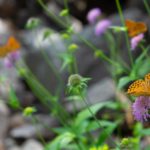 From the parking there is a signed path going directly to Mirador de Cascada de Gerber. It is an easy walk (400 meter/5 minutes) and only the last part to the base of the waterfall goes a little bit up. The walk is easy and pleasant and there are so many butterflies over here.
Cascada del Gerber is a powerful waterfall dropping down from a lake called Estany de Gerber. Height of the waterfall is estimated on 125 meter. When standing at the viewpoint (mirador) you can only see part of cascada de Gerber. You walk a little further down where cascada the Gerber keeps on falling down bu the best view on the whole of the waterfall is from the roadside.
From the parking drive up and after the next bend in the road you have an awesome view. Unfortunately my (test) camera failed and I miss several pictures from cascada de Gerber.
Best time to go to the waterfall is late spring or early summer when a lot of snow is melting down the mountains. Also in summertime cascada de Gerber is still an impressive waterfall suitable to visit with children. Close to the waterfall you can ski near port de la Bonaigua.