Cascada de Gujuli
(Cascada del Goiuri, Goiurlko ur-jauzia)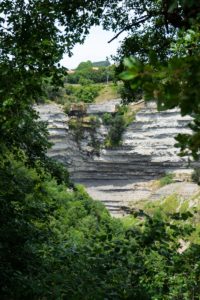 Cascada de Gujuli (also name Cascada del Goiuri or Goiurlko ur-jauzia) is one of the biggest single drop waterfalls in Spain. Cascada de Gujuli is located in the village of Goiuri-Ondona, north of Izarra/south of Bilbao, in the region Pais Vasco-Alava, Spain.
From Bilbao drive south over road AP-68 and turn right to Beluntza (A-2521) and then to Goiuri-Ondona/Gujuli. There is purple sign to Gujuli, here you can park the car. There is also a parking for disabled people.
From the parking it is an easy 5 minute walk (500 meter) to a viewpoint and blue plateau where you can see the single drop of Cascada de Gujuli. Unfortunately the waterfall almost dries up in summertime. When I was at the waterfall, end of July 2019, you had to look very carefully for a tiny stream coming down.
Normally (in a wet season) the river Oiardo drops down over 100 meter, quite nice to see. Best time to visit Cascada de Gujuli is wintertime or early spring.
There is a second option (not with children) to view the waterfall from aside and from the top of Cascada de Gujuli. You have to drive into the hamlet of Goiuri to gps 42.97652, -2.91196. Park the car here and cross the railway at a gate. Now you are almost standing at the top of the waterfall. Be careful, there are no fences and it is a deep way down. I liked this view more then the official one but also much scarier, certainly for people who ar afraid of heights.
In a wet season you also can visit the biggest single drop waterfall (222 m) of Spain, Salto del Nervion. Certainly a visit worthwhile!!