Cascata del Mandron
(Cascata della Lobbia, Cascata Lago Nuovo)
Cascata del Mandron is one of the many waterfall in the Val Genova, near Pinzola, in the region Trentino – Alto Adige, Italy.
In Pinzola you have to watch where the exit to Valle Genova (Cascata del Nardis) is. It is hard to imagine that the exit is a small narrow road for such a big tourist attraction. In summertime it can be very crowded.
In summertime you have to pay an entrance or parking fee of 6 euro. The closer you want to park (gps 46.169136, 10.721189), the more you have to pay (9 euros if you want to park close to cascata del Nardis).) Why do? The trail to the first waterfall is very beautiful and not that long.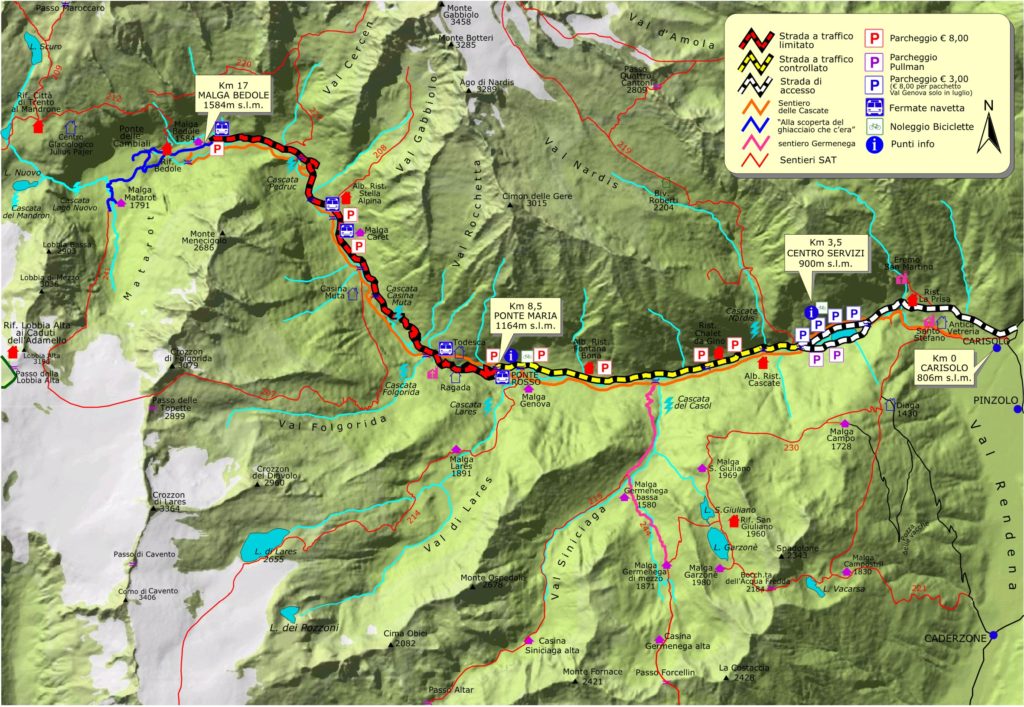 The first waterfall you see (and can't miss) is the most famous and also the highest waterfall in Valle Genova, cascata del Nardis. From here is a gorgeous, though long walk (14 kilometer) to the end of the valley, to the Bedole hut. It is also possible to stop at la Todesca (after 8 kilometer). In summertime there is a shuttle bus that can bring you back to the starting point.
Cascata del Mandron is one of the tallest waterfalls in Val di Genova at the end of the valley (near the Bedole hut) and begins at the glacier Mandron. The waterfall has a total height appr 240 meter. Halfway the waterfall there is a small lake lago Nuovo.
In summertime you you will see Cascata del Mandron in its glory. I even think there are two big waterfalls next to each other: At the right Cascata del Mandron and on the left Cascate della Lobbia.