Cascata del Toce
(La Frua)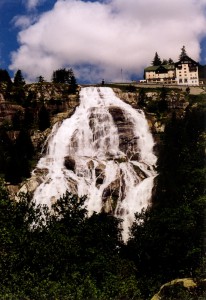 Cascata del Toce or La Frua (frutt Fall dialect German Walser) is a very beautiful waterfall located in Val Formazza near a place called Frua. Cascata del Toce is located at an altitude of 1675 m above sea level. Here the river Toce drops down over 143 meters with a wide at the base of 60 meters.
To reach the waterfall you must take highway 33 to Domodossola and there take road 659 into Valle Antigorio Pomatt and Val Formazza. After appr. 40 km you will reach Cascata del Toce, it can't miss.
There is a parking (gps 46.408814, 8.412671) at the top of Cascata del Toce where you can start your walk. At the east side of the waterfall you can descend down to the base of Cascata del Toce. Here you will have the most spectacular views (see picture at the left).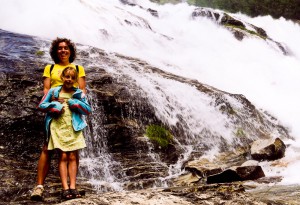 When we were visiting Cascata del Toce, I think somewhere in 2006, we started our walk at a parking near Frua (gps 46.402905, 8.417735). From here you can cross the river and walk towards Cascata del Toce. I think it doesn't matter that much where to start. Most people start from the top.
The car road to the top is anyway a must to do: the views on the way are gorgeous and when arriving at the top the scenery is fabulous.
Cascata del Toce is considered one of the most spectacular waterfalls in the Alps , although human intervention has reduced the flow for most of the year. Upstream of the waterfall Toce there is an artificial lake called Morasco which is used for generating hydroelectric power. The waterfall is open only for a short period between June and September, recovering fully their natural conformation.
At the top of the waterfall there is a historic hotel (1863), the main centre of tourism of the Alps from the early century. Nowadays it is a restaurant.
A day trip to Cascata del Toce is possible from Lago Maggiore. From Stresa it is a short drive to Domodossola (40 minutes) and the waterfall (another 60 minutes).
There are several other waterfalls in the valleys nearby but Cascata del Rio Agaro is one of the nicer ones. The waterfall is located near Croveo.