Cascata di Bignasco
(Cascata Grande)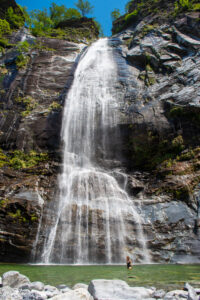 Cascata di Bignasco (also named cascata Grande) is a 70 meter high waterfall in Bignasco, Valle di Maggia, in the region Ticino, Switzerland.
I think it was July 2004 when we had holiday at Laggo Maggiore. We decided to drive to Valle Maggia to explore some of the great waterfalls. I already had seen pictures of cascata di Foroglio but we discovered many other great waterfalls in Valle di Maggia.
What a nice surprise when we drove in Bignasco and we noticed cascata di Bignasco at the right side of the road. In the car you already have an impressive view on a beautiful shaped waterfall in front of a public swimming pool.
Cascata di Bignasco is very easy to reach. In Bignasco (driving on the main road) take a right turn crossing the bridge. Keep right and follow the signs for the swimming pool. Follow the road to the end where you can park the car at the swimming pool (gps 46.335946, 8.6111280).
From the parking you already have a great view on Cascata di Bignasco. You almost are standing in front of it. It is also possible to walk to the base of the waterfall. Just follow the path over the grass.
July 2021 I visited the waterfall again and there was a little more water in the river Ri Grande and had a respectable volume. Although it isn't a high volume waterfall, it is gorgeous. There is a small pond at the base of the waterfall and people where swimming underneath it. It seems that you can swim at almost every waterfall in the valley. The thing I love most.
The source of the river Ri Grande lies at a small lake at an altitude of 1.980 meter near the top of the mountain Punta di Spluga. I think the river is being fed with melted snow and ice from the mountaintops. When I examine all the pictures on Internet it has quite a consistent flow but early summer is a good time to visit cascata di Bignasco.
Nearby there are several other impressive waterfalls. The best known one is cascata di Foroglio in Valle di Bavona, a must to visit.