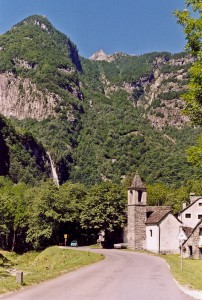 Cascata di Foroglio is one of the most beautiful waterfalls in the region Ticino, Switzerland. Cascata di Foroglio is located in Valle Bavona (Valle Maggia) near Locarno.
From Locarno drive into Valle Maggia to Bignasco and take the left turn into Valle Bavona. After 6,6 kilometer you see Cascata di Foroglio at the left side of the road. There is a big parking at the right side of the main road where you can park your car (gps 46.373334, 8.548537).
When walking to the beautiful village and restaurant « La Frodo » you cross a pedestrian bridge where you have an awesome view on Cascata di Foroglio. From here it is also possible to walk towards the base of the waterfall. It is even possible to walk up.
With good weather it also possible to bath and swim in the river near Cascata di Foroglio. From the parking there is a trail directly going to the river. Also a perfect spot for a nice picnic.
Cascata di Foroglio is a « one of a kind » waterfall you don't want to miss and is one of my favorite waterfalls. In Ticino (Switzerland) they speak Italian, that is the reason it is named like an Italian waterfall.
Cascata di Foroglio is a quite powerful waterfall and a attraction in the region. The river Fiume Calnegia drops down in a single drop over 80 meter. We visited the waterfall years ago and we loved the valley, the atmosphere and the power of the waterfall.
Cascata di Foroglio is being fed with water from several small lakes at the Wandfluhhorn (2.863 m) and Pizzo Sologna (2.697 m). The river Fiume Calnegia is being fed with melted snow and an overflow of water in the several lakes.
All the houses in the Valle Bavona are made of a certain kind of stones which makes the valley picturesque and very photogenic. The village Froglio, near Cascata di Foroglio, are also made of these stones and has a nice church. This guarantees the most beautiful pictures.
There are several other great waterfalls in Valle Maggia and Valle Bavona but I think I like Cascata di Bignasco most. The nicest part is that most waterfalls are easy to reach and are located near the main road.