Dynjandi
(Fjallfoss, Dynjandifoss)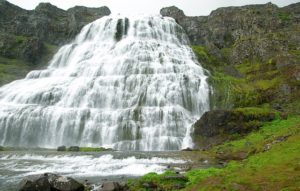 Dynjandi is a big waterfall located at the Arnarfjörður (Westfjord) in the region Vestfirðir, Iceland.
The Dynjandi walking trail can be found at the westfjords along road 60. From road 1 take the exit to Búðardalur (road 60) and follow the road for 250 kilometer. You can't miss the parking at Dynjandi waterfall. Although it is a long detour from road 1, a visit to Dynjandi is recommended. When we visited Iceland, unfortunately we had limited time so we had to skip the Dynjandi walking trail. Next time I visit Iceland, I certainly will visit Dynjandi.
Last part of road 60 is a gravel road. Driving near Dynjandi you can't miss the parking in front of the waterfall. From here a trail starts to the bottom of the waterfall.
Walking up to the famous an one of the most beautiful waterfalls of Norway Dynjandi you pass several other small waterfall in the river Dynjandisa. The Dynjandi walking trail leads from the parking lot along: Bæjarfoss, Hundafoss, Hrísvaðsfoss, Göngumannafoss, Strompgljúfrafoss, Hæstajallafoss and finally one of the highest waterfalls in Iceland Dynjandi. The walk to Dynjandi takes about 15 minutes.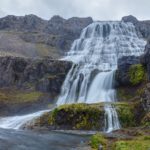 Dynjandi is also known as Fjallfoss or Dynjandifoss (Fjallfoss means mountain waterfall and Dynjandi means something like thundering/roaring, th enoise of the water). Dynjandi is being fed by melting water from Dynjandisheiði, a mountain plateau with a glacier, and then flows via Dynjandisvogur in the Arnarfjörður.
All waterfalls can't be found of a map and are between 2-6 meters high, except the great Dynjandi with a height of 100 meters. What makes this waterfall so wonderful and special is the shape and the wide: 30 meters wide on top and 60 meters wide at the bottom.
There are so many waterfalls in the region but also nice to visit: Stokkur and Úðafoss.
For a list with all waterfalls in Iceland or a map with all waterfalls in Iceland, go to the main Iceland section.