Eldegardsfossen is a nice waterfall at the Årdalsvatnet near Årdal in the region Sogn og Fjordane, Norway.
Eldegardsfossen is located along road 53 between Årdalstangen and Ovre Årdal at the east side of the fjord. Coming from Årdalstangen (just before the Midnestunnel) you have a good view on the Eldegardsfossen at the right side of the road.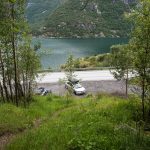 There is a small parking in front of the Eldegardsfossen and you can walk up to the base of the waterfall. The trail goes further up to the farm Eldegarden (1 hour walk), there are signs. Eldegarden is a 19th century farmhouse that is in a good condition.
Eldegardsfossen is an unknown waterfall because you don't pay attention on the surrounding when you are driving between two long tunnels. If you look good you will see a nice waterfall worthwhile to stop en to enjoy.
Here the river Storelvi thunders down over 130 meters. Eldegardsfossenis is especially early in the summer a gorgeous waterfall when a lot of snow melts from the Eldegardsnosi (1.447 m). End of the summer the waterfall almost runs dry….
When you are staying near Øvre Årdal you most visit the highest (singel drop) waterfall of Norway, Vettisfossen. This waterfall is also voted as the most beautiful waterfall of Norway. The hike to Vettisfossen takes you along three other great waterfalls: Hjellefossen, Avdalsfossen and Hyljefossen.