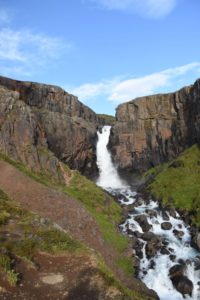 Fardagafoss is a very beautiful waterfall just outside Egilsstaðir, in the east of Iceland, and is easy to reach.
When driving on ringroad 1, at Egilsstaðir, take the exit to road 93 in the direction of Seyðisfjörður. Just before the road goes up to Fjarðarheiði there is a parking at the right side of the road (gps 65.267607, -14.332911). There is a sign for "Fardagafoss".
From the parking it a short walk, along the river Miðhúsaá. to a waterfall I thought it was the lower part of the Fardagafoss. Here the river Miðhúsaá plunges down over 20 meters in two stages. Actually this is another waterfall which is (probably) unnamed.
I totally missed the upper part (Fardagafoss) which is much higher. I just had to walk further upstream to see the Fardagafoss with a total height of approximately 80 meters. It was only another 20 minute walk further uphill (ascend of 140 meter). Description how to walk can be viewed on Wikiloc.
There used to be a cave behind the waterfall with a legend which says that if you entere the cave and made a wish it would come true. Nowadays the cave unfortunately has collapsed, so no wishing, or maybe….
When driving further on road 93 to Seyðisfjörður you will see several other beautiful waterfalls like the Gufufoss and Mulafoss.
In Seyðisfjörður you can also find the Búðareyrarfoss, with a height of 60 meters.