Formosfossen is a nice powerful waterfall along road E6 near the junction to road 74, south of Grong. From the main road there is a big sign "Formofossen". Follow the signs until they stop and you see an old railway crossing. Cross the railway and go over the bridge. Keep right and after 100 meter there is a parking.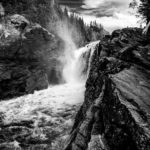 You already can hear the roaring sound of a lot of water falling down. Formosfossen is easy to reach now.  A small path (through woodland) leads down to the river where you can see Formofossen from above. Here you can climb down to the river Sandøla, but this isn't an official path. So be careful. Maybe better to walk a little further where a ladder brings you down to the river. Nice to tell is that I saw a big salmon jumping out of the water.
A visit to Formofossen is the perfect time for a stop and lunch, especially in summertime. Formofossen is very powerful early in the summer and certainly a visit worthwhile. The detour from road E6 only takes a few minutes.
A lot of tourist drive by on their way to the Nordkapp and that is still a long drive… August 2018 we started at Trondheim going north chasing waterfalls. After ending at the Reisadalen (not even the Nordkapp) we had driven appr. 2.500 km (in 9 days)!!! We also did a detour to the Lofoten and that was quite a long ride.
My experience is that you better can visit Norway in June or early July because the weather is mostly better and there is still snow on the mountains. We had a lot of rain, more then I had before.
There aren't many big waterfalls in this part of Norway but Sisselfossen, Grungstadfossen and Skrøyvstadfossen are the biggest ones.