Gainfeld wasserfall
(Bachsfall)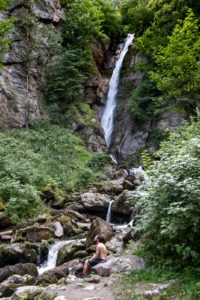 The Gainfeld wasserfall is a nice waterfall west of the centre of Bischofshofen in the region Salzburg, Austria.
The Gainfeld wasserfall is almost directly located next to the famous ski jumping tower of Bischofshofen. Bischofshofen is famous because of the annual 4 schanzen tournament for ski jumpers.
From the center of Bischofshofen a trail leads you in ten minutes to the Gainfeld wasserfall which lies in a protected area. The river Gainfeldbach plunges down over 50 meters below the ruins of Pongowe (around 1200 A.C. the Counts of Pongowe, the then ruling family, lived there). Because of the humidity in the air, the environment is known as a healthy climate zone.
I visited the Gainfeld wasserfall July 2020 and it was a big surprise to me. From the parking (gps 47.414349, 13.211800) at the ski jumping tower it is only a 8-1o minute walk. Take the road left from the swimming pool, there is a small sign for the "Gainfeld wasserfall".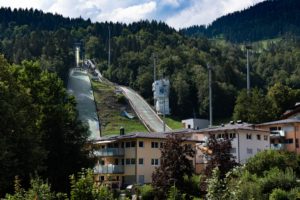 I am afraid I will be remembered my visit for a long time….. When I wanted to take a picture at a big rock I slipped and blood was dripping all over my face. Nevertheless I still took some time to take several pictures but I didn't walk up to the top.
The Gainfeld wasserfall can be a powerful waterfall and is then certainly worthwhile to visit. Best season to visit the Gainfeld wasserfall is late spring or early summer when melted snow feeds the river Gainfeldbach. Although it is said that the waterfall is 50 meters high I measured a single drop of only 36 meter. Probably the total height is 50 meter.
Best time to visit the Gainfeld wasserfall is late in the morning when the position of the sun is advantageous for taking pictures.
A little south of Bischofshofen lies the amazing Liechtensteinklamm with at the end a 50 meter single drop waterfall, the Liechtensteinklamm wasserfall. This is really a must to visit!
© pictures 1-2-3 Broderick Dyke, Austria