Gljúfurfoss (Seyðisfjörður)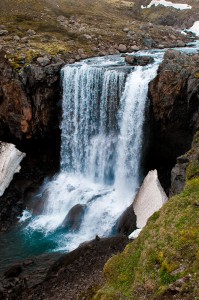 Gljúfurfoss is one of the many waterfalls along road 93 when driving from Egilsstaðir to Seyðisfjörður in the East of Iceland (Austurland).
Gljúfurfoss is located a little after lake Heiðarvatn when coming from Egilsstaðir. There is a small blue sign along the road pointing to the right. There is a small spot where you can park your car (gps 65.231122, -14.123028) at the right side of the road.
You have to walk towards the river Fjarðará to see Gljúfurfoss. I am not a hundred percent sure that the pictures is really the Gljúfurfoss. There is a timeframe of two minutes between my picture of the sign and the waterfall. So it is quite likely it is the Gljúfurfoss.
There are two waterfalls with the name Gljúfurfoss Austurland. This one is a nice single drop waterfall with a height of approximately 8 meter.
Very close to Gljúfurfoss is the more impressive Gufufoss, a few minute driving towards Seyðisfjörður. You can't miss it (look in your mirror) or take attention on the signs along the road.