Hölltobel
(Lower Dietersbach wasserfall)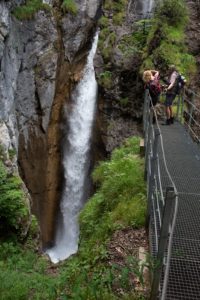 The Hölltobel, also known as the lower Dietersbach wasserfall, is a nice and powerful waterfall in the Gerstrubental near Oberstdorf in the region Bayern, Germany.
From Oberstdorf centre it is a 5,5 kilometer walk (75-90 minutes) where the road goes a little steep up at the end. When we visited the Hölltobel July 2020 we choose to rent an electric bike. Good choice because the bike path had also some very steep parts. I think it took us somewhere near the 30-35 minutes to bike to the Hölltobel .
To reach the Hölltobel you have to follow the river Trettach from Oberstdorf to the south. There is a road following the river going in the direction of Gottenried. Just follow the signs to Gasthaus Gerstruben. From the roadside there is small sign for the Hölltobel (gps 47.370383, 10.311729). After descending steeply for 8 minutes I arrived at a platform with a gorgeous view on the Hölltobel.
At the Hölltobel the river Dietersbach tries to find it way through a narrow gorge and in a single drop, drops down over 22 meters. Magnificent to see and certainly a visit worthwhile. Many people walking to the end of the Gerstrubental missed the waterfall because they don't know it exists.
At the end of the Valley (another 4,5 kilometer further) you will find another waterfall called Bachfalle with a height of approximately 160 meters. There is a nice cafe near the Bachfalle with some homemade beverages and delicious homemade cheesecake!!! Only for the cheesecake I will go back again one day.
In the valley next to the Gerstrubental there is another nice valley with several waterfalls, the Oytal. At the (almost) end of the valley you can visit the beautiful Stuibenfall.