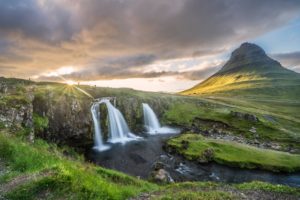 Kirkjufellsfoss belong to the most photographed waterfall in Iceland and is located near Grundarfjörður in the eastern parts of Iceland. To be precise at the north side of the Snæfellsnes Peninsula.
From Bogarnes it is still a 100 kilometer drive. First take road 54 to Olafsvik and then road 56 to Stykkish. Then take road 54 again to Grundarfjörður. A little after Grundarfjörður there is a snall parking at the left and right side of the road. There is a blue sign for Kirkjufellsfoss.
You already can see the double waterfall but for the best picture walk towards Kirkjufellsfoss and cross the river, walk down a little bit until you have the perfect view. The whole idea is to take a picture of Kirkjufellsfoss with Kirkjufell mountain in the background.
Mount Kirkjufell is with its height of 463 meter one of the most distinguished mountains in Snæfellsnes. Together with Kirkjufellsfoss in the foreground I can imagine that is one of the touristic hotspots in Iceland.
The river Kirkjufellsá runs down from the volcano Helgrindur and has three waterfalls in it, all called Kirkjufellsfoss.
At certain times it can be very crowded at Kirkjufellsfoss, not the perfect time to take the perfect picture…
For a list with all waterfalls in Iceland or a map with all waterfalls in Iceland, go to the main Iceland section.