The Laksforsen (also named Laksfossen) is a powerful and wide waterfall in the river Vefsna and is located north of Trofors, Grane in the region Nordland, Norway. The river Vefsna is the longest river in Nordland and can be very powerful. The river and is fed by melted snow and rainwater from the  mountains of Børgefjell National Park.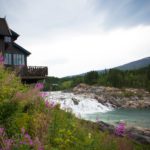 When driving on road E6, from Trofors to Mosjoen, there is a sign for Laksforsen. Drive down the road until you reach a big parking at Laksforsen Turistkafe. At the right side of the cafe there is a path (50 meter) that leads to the river Vefsna. Her you have a great view on the Lakforsen. When walking to the right you have another kind of viewpoint, good for nice pictures.
The Laksforsen isn't a very high waterfall (12 meter) but it is wide and powerful waterfall (appr. 20 meter). When we were there August 2018 I had the idea that normally Laksforsen is much more powerful. The summer of 2018 was extremely dry in most parts of Europe. I think the best time to visit Laksforsen is late spring or early summer. Then Laksforsen can get quite powerful and even more impressive. Neverheless, in summertime the waterfall is still quite impressive.