Melkevollfossen
(Blåfossen)
Melkevollfossen is a low volume waterfall at the end of the Oldedalen near Briksdal in the region Sogn og Fjordane, Norway.
From Olden you have to drive 20 kilometer into the Oldedalen, passing lake Oldevatnet (with some beautiful views) until you reach Melkevollfossen.
Busloads of people travel every year to the Kleivafossen and Briksdal glacier without noticing that there is more beauty in the surrounding. Dozens of (named and unnamed) waterfalls are gushing down the mountain, most of them with melted ice from glaciers.
Just before reaching Briksdal there is a long stretched waterfall at the right side of the road: Melkevollfossen. The visible part of Melkevollfossen is not very showy but a consistent stream (unnamed?) cascades down over appr 175 meter.
The origin of the mountains stream lies at a small lake just under the glacier Flatebreen on an altitude of 1.500 meter. Flatebreen is a side arm of the bigger Myklebustbreen with a surface of 57km2.
Best time to visit waterfalls in the Oldedalen is early summer and summer when the weather is warm and melts down snow and ice from the surrounding glaciers. Melkevollfossen falls towards the east. If you don't want backlight, the morning is a good time to visit Melkevollfossen.
I visited the Oldedalen three times, last time July 2017 and every time it still surprises me that there are so many waterfalls in the Oldedalen. A lot of them are seasonal and not named, but there are still many official named waterfalls left. Most beautiful ones are Volefossen and Kleivafossen. They are located at the end of the valley near Briksdal.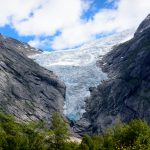 The Briksdalbreen was a long stretched glacier ending at a glacier lake. Since 2000 the glacier retreats rapidly (over 200 meters). Nowadays glacier walkings on the ice is dangerous and not possible anymore.
Briksdalbreen is still responsible for a very nice and astonishing surrounding and even more beautiful (un)named waterfalls.