Naustafossen
(Nauståfossen)
Naustafossen (officially written as Nauståfossen) is gorgeous waterfall, with a total height of 140 meter, in the Todalen (Kårvatn). Todalen is part of the municipality Surnadal, More og Romsdal, Norway.
The first time I visited Naustafossen was July 2017 when I was in the Sunndalen. I thought Todalen is nearby but I forgot that you have to take the ferry Rykkjem-Kvanne. It finally took me 70 minutes, from Sunndalsøra to Naustafossen. But I was glad I did, Naustafossen is one of the most beautiful waterfalls in Norway and a must to see.
Coming from the ferry, after 6 kilometer there is a exit to the right to Todalen. Near the exit you also see another waterfall called Engjafossen. Now it is still a 25 kilometer drive to the end of the valley, partially over a gravel road. But mostly the road is well maintained and the surrounding is beautiful. Follow the signs "Kårvatn".
On the way to Naustafossen you will pass several small waterfalls in the river Toåa. Near Kårvatn (at the end of the road) you can already see Naustafossen and you have to park the car at the car parking. There is a signed trail that leads over the bridge, going right, to the base of the waterfall. The walk is easy and pleasant but after rainfall quit muddy. From the beginning of the walk you already have a view on Naustafossen. It takes approximately 15-20 minutes to the base of the waterfall and the elevation is negligible. Perfect walk with children.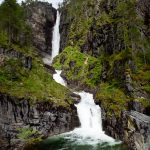 At the base of the waterfall you will have a beautiful view on the lower and upper part of Naustafossen together. At the left side a path is going up to the upper waterfall of Naustafossen. Here you have to be careful with children because there are no fences. After 5 minutes you will reach the upper part, but there is also a small waterfall in between.
I have seen pictures of people in swimming trunks walking behind the lower part of Naustafossen (when the volume was low). Maybe a good idea when the weather is warm and Naustafossen isn't so powerful. When I was there it didn't seem a good idea and the weather was good.
Naustafossen thunders down over 2 stages where the upper part has the biggest drop with a single fall of 86 meter. The lower part drops down over 34 meter and in between the descent (with a small waterfall) is 20 meter.
Early summer the waterfall can be very powerful and impressive when melted snow thunders down from the Tverråbotnfjellet and Naustådalsvatnet at an altitude of 835 meter.
The region of Todalen, Surnadal is perfect for hiking. There are several popular trails near Kårvatn. More information can be found on the website of FjordNorway. More information about the area can be found on the website of Todalen (Norwegian).