Riesach wasserfälle
(Riesachfall, Riesach wasserfall)
The Riesach wasserfälle is a series of powerful drops near Schladming in the region Steiermark, Austria.
From Salzburg take the highway E10 to the south. At Altenmarkt in Pongau take road E651 to Schladming. At Schladming turn right to Rohrmoos/Untertal and drive up to Untertal over the Untertalstrasse to the end of the valley. There are signs for the "Riesach wasserfälle".
Near the end you have to pay for a (parking) ticket, €9, quite expensive. The Riesach wasserfälle is a popular tourist destination and has several big parking lots. When I visited the Riesach wasserfälle I drove up to the parking at the restaurant near the trailhead to the Riesachsee.
I started at the right side of the river and walked to a wooden bridge where you already can see the first powerful drops. A little further up there is a nice viewpoint on the small Riesach wasserfall. Here the river Riesach plunges down with great force over several steps. From the parking this is a 10 minute walk.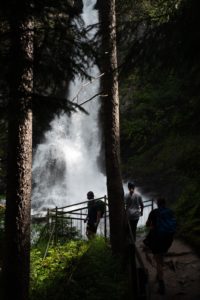 The path continues going up along the river. Soon you will arrive at a viewpoint on the big Riesach wasserfall with a single drop of approximately 30-35 meters. From the parking this a 20 minute walk.
The trail continues going up to the bridge over the big Riesach wasserfall and further up to a suspension bridge. Here I went back but most people walked further up to the Riesachsee. From the parking this is a 30-35 minute walk.
In total the river Riesachbach plunges down in several stages with a total descent of 140 meters. The Riesach wasserfälle is the highest waterfall in Steiermark and one of the most impressive waterfalls in the country of Austria. When going on to the Riesachsee you have to ascent 260 meters before reaching the Gfölleralm and Riesachsee, but the river keeps on cascading along the trail.
In total my hike costed me 50 minutes: from the parking to the small waterfall, to the big Riesach wasserfall, to the suspension bridge and back to the parking. The walk along the Riesach wasserfälle is suitable for children but sometimes the steps are big (difficult for small children), certainly the last part to the suspension bridge. This is also a more steep part.
There are several other nice waterfalls nearby, one I like most is the Salza wasserfall (10 minute walk), almost along road E651 in the direction of Stainach.