Röthbachfall
(Röthbach Wasserfall)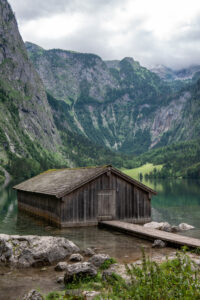 The Röthbachfall or Röthbach wasserfall is the highest waterfall in Germany with a total drop of 470 meters. The waterfall is located south of Berchtesgaden in the region Bayern, Germany.
From Salzburg or from Berchtesgaden the Königssee is a perfect destination for a day trip. From far ahead there are already signs to the Königssee. The signs end at a huge parking (really big). You have to pay for the parking!!! We arrived quite early in the morning, so it wasn't that crowded. The line for the boat tickets where fine but expensive (in 2002 it was €25, for an adult, to Salet, the end of the lake).
The Königsbach wasserfall was the first waterfall we saw at the left side, not as impressive as I expected. After a stopover at Bartholomä (a gorgeous place and a guarantee for perfect pictures) the boat continues to Salet. At the right side you also can see another nice waterfall, the Schrainbach wasserfall.
After the boat has docked you can see the Röthbachfall in the far distance. A short walk brings you to the other lake (the Obersee) where you have the most gorgeous views on the Röthbach wasserfall and the mountains aside.
For me the Röthbachfall is, besides it is the highest waterfall, it also the most beautiful waterfall in Germany. In July the water stream is rather tiny but it is still beautiful. Only question is if the Röthbachfall is really 470 meter high. When I look at the pictures and I survey the map it is more like 340 meters max????
You can walk further along the Obersee to the other side where you can buy some beverages or a simple snack. There are also toilets. Here we stopped but you can walk further to the base of the Röthbach wasserfall.
I liked the surroundings, the nature, the atmosphere very much and I would have stayed longer but there is more to see.
If you don't want to buy a ticket for the boat, it is also possible to hike along the Königssee to the Obersee but this is a 10 kilometer walk and should take 2,5-3 hour.