The Schleierfall is a waterfall near Hallstatt in the Echerntal in the region Oberösterreich, Austria. Schleierfall is a very popular name for waterfalls and means veil waterfall.
The Schleierfall can be reached by foot, from the centre of Hallstatt, in about 45-60 minutes. It is also possible to drive to the parking at the beginning of the Echerntal (gps (47.549613, 13.631023). In summertime somebody is standing at the main to road to prevent cars to drive in the town, but just say that you are going to the Schleierfall and he will let you through.
From the parking at the beginning of the Echerntal there are several trails you can take. During our stay at Hallstatt beginning of August 2020 we decided to follow the trail at the left side of the river paralel to the river. At the first bridge you see, cross the river and follow the path that runs to the first big waterfall, the Schleierfall (a 15 minute walk).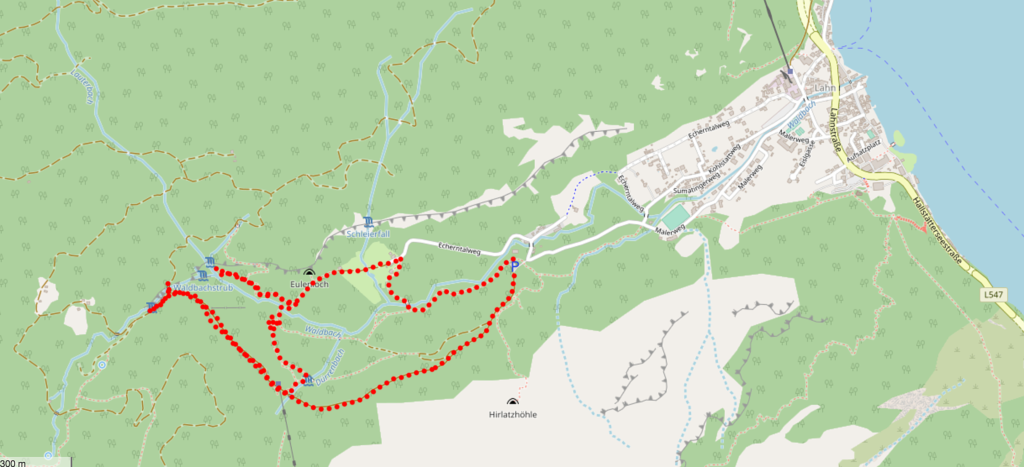 The Schleierfall is a picturesque waterfall with a farmhouse in the foreground. We measured a height 0f 140 meter, quite impressive for this region. There was also a respectable amount of water in the river Spraterbach. Maybe because it rained the night before (lucky me).
The source of the waterfall lies a little up at the Salzberg at an altitude of 1050 meter. If you want to see more (maybe even better) views of the Schleierfall you also can walk further up to Glacier Garden. The Glacier garden is a natural monument and is a relic of the last glacial period, whose glaciers retracted from the Echerntal about 12.000 years ago.
Don't forget to make a small detour to three amazing waterfalls that are coming down at one point: at the left the Waldbachstrub wasserfall, in the middle the Lauterbach wasserfall and at the right an unofficial named waterfall the Klausalm wasserfall (???).
Go back to the path that goes up to the Glacier Garden and walk up to the bridge over the river Dürrenbach where you meet the thundering Dürrenbach wasserfall. Look carefully into the valley and again…. you will see the Schleierfall.
If you now walk up a little to the tunnel the view on the Schleierfall only gets better. Now you can walk down, back to the parking, over the asphalt road with a lot of views on the waterfall and the Hallstatter see.
If you take this route: Schleierfall-Waldbachstrub wasserfall-Glacier Garden-the tunnel-back to the parking, it will take you approximately 70-100 minutes.