Seljalandsfoss
(Seljlandsáfoss)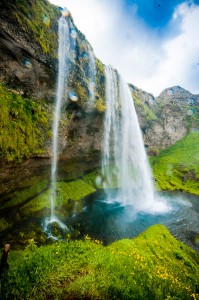 Seljalandsfoss is one of the most beautiful waterfalls in Iceland and is located near Hvolsvöllur in the region Suðurland, Rangárvallasýsla.
Seljalandsfoss is one of the popular waterfalls when traveling in Iceland. The waterfall is easy to reach from road 1, the ring road of Iceland. When driving east of Hvolsvöllur (south Iceland) there is a big sign to "Seljalandsfoss", road 249. After taking the exit it is another 750 meter until you reach the big parking in front of this majestic waterfall. Since 2017 you have to pay a parking fee of ISK 700. But it is a big parking with toilet facilities.
From the parking it is only a few hundred meters walking to the base of Seljalandsfoss, passing small streams and flower fields (in summertime). The view when approaching Seljalandsfoss is amazing and this is certainly one of the most photogenic waterfall in Iceland.
After taking pictures from the front and from aside (the right side is amazing) it is time to walk behind Seljalandsfoss. This is also what makes this waterfall unique. There aren't that many waterfalls where you can walk behind.
I think Seljalandsfoss is one of the most photographed waterfall of Iceland. Very popular on postcards, calendars or screensavers for laptops.
I only visited Seljalandsfoss once, July 2011, and I certainly want to go back. I have seen so many great pictures of the waterfall at sunrise I want to visit Seljalandsfoss very early.
Seljalandsfoss is fed by melted snow and ice from the glacier Eyjafjallajökull. In summertime there is a lot of melted ice and snow in the river Seljalandsa to create a powerful waterfall.
Seljalandsfoss is a 65 meter high waterfall which cascades over ancient sea cliffs into a pool below. The pool is called Kerið or Fossker. At night and in wintertime, the waterfall is illuminated.
Take your time visiting Seljalandsfoss and exploring the area but don't forget to visit another miracle, the waterfall Gljúfurárfoss (or Gljúfrabúi). This waterfall is located a little north of the Seljalandsfoss. It only takes 10 minutes (600 meter) walking along the cliffs until you reach this hidden waterfall (literally). From the roadside you can see the top of Gljúfrabúi but when walking more near the cliff you can't see it. There is small gap in the rocks or you can walk a little up to a viewpoint.
South Iceland has many gorgeous waterfalls but my all time favorite is the Skogafoss, only 29 kilometer east from Seljalandsfoss. A must to visit.
For a list with all waterfalls in Iceland or a map with all waterfalls in Iceland, go to the main Iceland section.