Sgwd Gwladys
(Lady falls)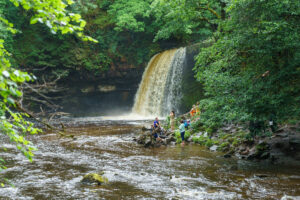 Sgwd Gwladys (on signs named Lady falls) is a nice 7 meter high waterfall in the river Afon Pyrddin near Pontneddfechan in Brecon Beacons National Park, Wales (UK).
In the summer of 2023 we finally decided to go to the UK, chasing waterfalls. The weeks before it rained much and the weather forecast wasn't that good. But for the flow rate of the river it was very good. The Lady falls was one of the first waterfalls we visited and it was quite powerful.
The waterfall, Sgwd Gwladys – Lady falls, is easy to find and is located along the "Elidir trail", a popular hiking destination. There is a free parking in Pontneddfechan (gps 51.75649, -3.59391), with toilet facilities and a restaurant. Because it is a popular destination, the parking is overcrowded. We parked our car somewhere along the roadside.
From the parking just follow the river Neath upstream. After appr. 30 minutes you see a wooden bridge, but you have to go left before the bridge. You first will see a small waterfall but you have to go further until you the Lady falls from a short distance. People where swimming at the top of the waterfall and at the base. If you want to get very close to the Lady falls you have to go back to the bridge, cross it and go left, following the river Afon Pyrddin at the other side.
After visiting Sgwd Gwladys – Lady falls you can finish the "Elidir trail", but we had to go further, to our next stop: Henrhyd waterfall in Coelbren. Not very far from Pontneddfechan.
There is another, even more impressive trail with four bigger and more impressive waterfalls near Pontneddfechan. It is called "the four waterfall walk " which brings you along: Sgwd Clun-Gwyn, Sgwd Isaf Clun-Gwyn, Sgwd y Pannwr and the most impressive waterfall Sgwd Yr Eira. You can start in Pontneddfechan but there are several parkings closer to the trail. I parked my car for free at gps 51.78336, -3.56908, along the small road from Pontneddfechan to Ystradfellte.