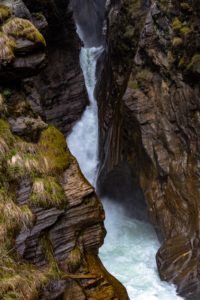 The Stieber wasserfall is one of the many waterfalls in the region of the Passeier tal. The Stieber wasserfall is located at the southwest side of Moos in Passeier, in the region Trentino – Alto Adige, Italy.
When driving north in Moos in Passeier, over road S44bis, you can see all of the Stieber wasserfall, 90 meter of water cascading down with great a force. An even better view you will have from the bridge over the Stieber wasserfall when following the signs to Pfelders and Plata. From the bridge (gps 46.826325, 11.165921) you can feel the tremendous power of the river Pfelderbach trying to squeeze itself through a narrow gorge. It is quite a spectacle to see.
It also possible to go to the bottom of the Stieber wasserfall, a single drop of 19 meters. Park the car north of the bridge when driving back to Moos in Passeier. After 200 meter there is parking. From here you have to walk 50 meter towards the bridge where you can see a little sign (at a road down to a company site) for the waterfall (gps 46.829843, 11.163845). The path runs paralel to the road and within 5 minutes you are standing at the bottom of the waterfall.
The view from the wooden bridge, very near the drop, is impressive. Only disadvantage is the amount of spray making you wet. This makes it also difficult to make a good picture of the single drop.