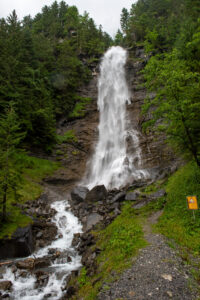 The Tätschbachfall is one of the taller waterfalls of Switzerland and is located near Engelberg in the region Obwalden.
The Tätschbachfall is very easy to reach and lies directly behind a restaurant with the applicable name "restaurant wasserfall" not far from the cable station "Furenalp bahn". From Stans (road 2) take the exit to Engelberg and continue to Engelberg. There you have to go right following the signs "Furenalp" and "wasserfall". You can park your along the road near the restaurant (gps 46.805106, 8.446154).
This was the first waterfall I met on my five day visit to Switzerland chasing waterfalls July 2021. It was approximately 20 years ago I was in this region but I never took the exit to Engelberg. My Tomtom (gps system) wasn't functioning correct and I was irritated. Because of this I forgot that there where several great waterfall in the valley. I only visited the Tätschbachfall in the Engelberg valley.
Behind the restaurant the Tätschbachfall drops down from an immense height. A path runs to the base of the waterfall where you have a great view on the lower part, a single drop of 60 meter. Total height is somewhere near the 300 meter.
The Tätschbachfall is most of the time a powerful and impressive waterfall and if examining all those ancient postcards of the waterfall, the Tätschbachfall is since a long time a popular sight to visit.
The Griessen glacier at the mountain Wissigstock (2.887 m) is shrinking but still can produce enough melting water for very powerful waterfall. During my visit it was slightly raining and the path to the base of the waterfall was slippery, so be careful, especially with children. Best time to visit the Tätschbachfall is early summer-summer.
There are several other great waterfalls at the end of the Engelberg valley worthwhile to visit. You can hike to the beautiful waterfall Stäuber and many other waterfalls coming down the mountains.