Trollfossen is a tall waterfall near Åndalsnes, located at Trollstigen, in the region More og Romsdal, Norway.
Trollstigen is the most famous road in Norway and is one of the touristic highlights of Norway. Trollstigen means Troll's ladder and is also called the troll route. The road has 11 hairpin curves and an elevation of approximately 850 meter. The road is only open in summertime! Information about the opening and closing dates can be found on the website of nasjonaleturistveger. Driving down the road (or up) leads you along two waterfalls. Stigfossen is the biggest waterfall and is the one seeing first and Trollfossen is the taller waterfall but less voluminous.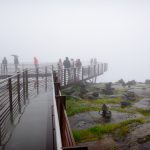 At the top is a viewing platform, Trollstigheim called, where you have a beautiful view on the road and the waterfalls Stigfossen and Trollfossen. There is also a restaurant, toilets and a tourist shop at the big parking. Last time I as at Trollfossen the weather wasn't so good and the top of Trollfossen was covered with clouds. I was quit disappointed but clouds can also add something to pictures.
Trollfossen is a tall waterfall with a total height of 280 meter. The river Tverrelva is being fed with melted snow from the Stiggbotthornet (1.597m) and Storgrovfjellet (1.629m).  A lot of this water ends in a lake called Stigbotnsvatnet that is the major suppliers for the volume of Trollfossen.
Best time to visit Trollfossen is early summer, late in the afternoon. I always like the moment the sun disappears behind the mountains. The disadvantage is that the sun is right above Stigfossen with a lot of backlight.
It is hard to say what the best viewpoint are. Just begin on the top and drive down. First you will side Trollfossen from aside. There are some small spots where you can stop but many other people want to do the same thing.
At the end of Trollstigen there is a parking where you can see Stigfossen and Trollfossen completely and together. There is also an information board with hiking trails. There is a trail Klovstien that leads up Trollstigen, a quit demanding hike but very beautiful.
Trollstigen is part of road 63 in near Åndalsnes (Rauma Municipality, Møre og Romsdal county) and is about 20 km long. It is a popular tourist road with eleven hairpin bends. The road was opened on July 31, 1936 by King Haakon VII after a construction period of eight years. Originally it was a very narrow road where cars hardly could pass. After improvements, the last years, it has become a good motorable road but is still forbidden for long vehicles. In the winter months Trollstigen is closed. Even in springtime, the Trollstigen can be closed in morning due to frost.
Stigfossen is the bigger and more powerful waterfall and is more impressing. With a total height of 240 meter Stigfossen is in my top 10 most beautiful waterfalls in Norway.
From Stigfossen it a short drive to the Romsdalen (Rauma) with its many tall waterfalls. This a wet area with a lot of rain, guaranteeing nice waterfalls. The ones I like most is Gravdefossen and Dontefossen, but you have to see yourself. Here is a list of all waterfall near or around Romsdalen (Rauma).