Tyssefossen is one of the larger waterfalls in Norway, located east of Bjørke at the end of the Hjørundfjorden in the region Møre og Romsdal.
When driving on the E39, between Grodås and Fyrde, there is a small road going to Bjørke (Fv 41). From the other side of the Hjørundfjorden, looking towards Bjørke, you will have a great view on Tyssefossen.
July 2017 I had to check out Tyssefossen. I had seen a lot of pictures and the waterfall looked magnificent. Driving to Bjørke you already see a small wooden sign with Tyssefossen. That promised a lot, because they only do that if a waterfall is of any importance. The road is narrow and I wondered if I was going the right way. My Tomtom assured me to do so. After a curve in the road I saw Tyssefossen in the distance.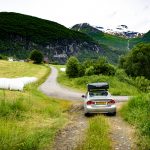 At the bridge over the river Tyssa you will have a good view on the waterfall. There was only one but…. It was only a part of what I expected. The pictures I saw where impressing, a waterfall with a high volume, wild and of great beauty. The waterfall I saw was okay, but not really a waterfall this would belong in my top 100 nicest waterfalls of Norway.
Nevertheless I checked out the waterfall, walked a little bit closer to the waterfall and tried to measure the hight. The distance to the top of Tyssefossen was to big to measure it. After surveying the map of Norgeskart the potential height is appr. 550 meter.
There is also a trail going up to Tyssevatnet that runs along Tyssefossen. Tyssevatnet is a big lake on an altitude of 656 meter.
Tyssefossen is falling to the northwest, so a visit in the afternoon would be the best time. Unfortunately Tyssefossen is a regulated waterfall. That is why the volume in the river Tyssa isn't consistent and that is the reason why the volume in the river was so low when I visited the waterfall.
I don't think you can see Tyssefossen in its old glory. Maybe when there is a reservoir dump, but you never can tell when.
There aren't many other waterfalls in the direct area of Bjørke or Hjørundfjorden. But (there is always a but), the Geirangerfjord near Hellesylt is nearby.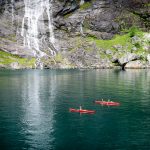 Geiranger is a perfect base for day trips, hikes or boat trips. I can recommend the ferry Geiranger-Hellesylt. It wasn't cheap but again (fourth time) I enjoyed the boat trip. It can be cold because of the wind, so take a jacket with you. If you are with more then two people you also can rent a boat at Grande camping in Geiranger. In two hour time you can make your own trip and it really fun, certainly with children.