Vinnufossen
(Vinnufjellfossen, Vinnufallet)
Vinnufossen (or Vinnufjellfossen) is one of the highest waterfalls in the world with a total drop of 860 meter. Often Vinnufossen is ranked as the 6th highest waterfall in the world.
The names Vinnufossen or Vinnufjellfossen is particularly used on the Internet and some maps but locals call the waterfall Vinnu and the upper part (the first single drop) is called Vinnufallet.
Vinnufossen is easy to reach and is already visible from a distance driving on road 70, when driving from Sunndalsøra to the east. After 5,5 kilometer from Sunndalsøra you can see Vinnufossen at the left side of the valley. It is possible to park the car somewhere along the road (almost in front there is a parking) or at the small airstrip/airport, near Vinnufossen.
Although Vinnufossen is one of the highest waterfalls in the world, it isn't the most impressive or most beautiful waterfall. I like the look of it and it was it worth to stop and make some pictures but I miss the special feeling I often get at a nice waterfall.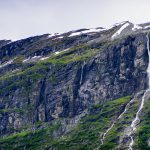 Vinnufossen isn't a very powerful waterfall but plunges down from the Vinnufjellet in almost a single drop. Vinnufossen is fed by melted ice from a small glacier (Vinnufonna) with a highest peak of 1.814 meter. The melted water ends in the river Vinnu and slides down to an altitude of 990 meter before it plunges down and finally ends in the river Driva. Even in July you still can see snow at the top of Vinnufossen.
Best time to visit Vinnufossen is early summer and summertime when the weather becomes more stable and temperatures are rising. I visited Sunndalen twice (June and July) and both times the volume was almost the same. Last time was July 2017 around 2p.m. Vinnufossen almost falls totally to the south but the backlight didn't bothered me. Maybe later in the afternoon or early in the morning would be better for taking pictures.
According to Google maps there are two Vinnufjellfossen (near Sunndalsøra and near Surnadal) which is very confusing. But this one is the waterfall that everybody is talking about.
Nearby there are three other really magnificent waterfalls near Åmotan: Linndalsfallet, Reppfallet and Svøufallet. These waterfalls are accessible from road 70. In Gjøra take the turn to the Fv413, direction Fjellgarden/Åmotan. In Fjellgarden there are signs heading to a parking from where you can start the hike into the Grøvudalen. The hike begins with a view on another huge waterfall, the Svøufallet. From here the trail gets more difficult and steep. This was one of the more intense hikes I ever did. But 75 minutes later you will have the most fantastic view on the Lindalsfallet. The trail is well signed and leads to 3 waterfalls: Viewpoint Linndalsfallet, the Reppfallet and the base of the Svøufallet.