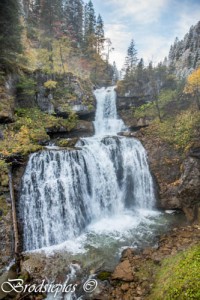 The Gnadenfall is a waterfall between Untertauern and Obertauern in the region Salzburg, Austria.
The Gnadenfall is located directly at road 99 but it is difficult to stop or park the car. There is a sort of spot to park your car a hundred meter south at the east side of the road (gps 47.27195, 13.50058). When driving from Untertauern to Obertauern you will have a tremendous view on the Gnadenfall with mountains tops in the background.
Take your time and park the car at the roadside and walk back for a good view. Unfortunately they made a roof at the roadside that disturbs the view a little.
The river Taurach plunges down over over two stages with a total height of 18 meter. I visited the Gnadenfall twice, early summer and late summer.
In May 2006 we had snow showers when driving the Obertauern road. That was to early in the season. Best time to visit the Gnadenfall is early summer at midday when the sun is high at the sky.
The second time was end of July 2020 with warm weather. The flow of the river Taurach was still powerful enough to create a nice waterfall.
A little further towards Obertauern you can visit the most beautiful waterfall in the region, the Johannesfall. This 38 meter single drop waterfall is also easy to reach and you can walk behind the waterfall.
© 3-4th picture Broderick Dyke, Austria