Hengifoss (Fjotsdalsheidi)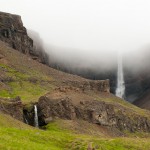 Hengifoss is a beautiful waterfall in Fljótsdalur valley not far away from Egilsstaðir. Hengifoss, in the river Hengifossá, is 128 meters high making it the second highest waterfall in Iceland. There are several sources speaking of a height of 118 meters. The truth probably lies in between.
The hike up to the waterfall is fairly easy and takes about 45 minutes. On your way you will also see the beautiful waterfall Litlanesfoss which is surrounded by some of Iceland's longest basalt columns.
After this you already can see, in the distance, the impressive Hengifoss. Unfortunately the waterfall was, during our visit, partially in the fog. In any case, highly recommended!
What makes the Hengifoss special is the visible red layers behind the fall. Each layer (Paleosols) is another period with a different climate. The paleosol is also called fossil soil. These are very valuable for climate predictions. The soil is fossilized by (sudden) or volcanic sedimentation deposition. In hydrogeology such layer is called a scrambled egg layer. In the lower left corner of the waterfall is a mini basalt layer with basalt columns.