Most beautiful waterfalls in Norway
---
November 2017, by Olaf Helwig
---
For over a year I am on a quest, searching the most beautiful waterfalls in Norway. I even started writing a book about the most beautiful waterfalls in Norway. But Norway is a big country with over 350 waterfalls, at least that is what I have listed in my database.
My first visit to Norway, chasing waterfalls ,was in 2003. Since 2016 I went to Norway several times only with one goal, gathering information for my book.
My last journey was in the summer of 2017 when I was in the mid-south of Norway for two weeks, starting in the Hemsedal and then working my way up north covering Norway from east to west. This resulted in 2.500 pictures and about 30 new waterfalls I didn't visited before. It is crazy, I know, how somebody get somehow, so infected with the waterfall virus.
I want to share my information and pictures so that people can enjoy waterfalls as much as I do. In the two weeks time I was in Norway there were several highlights. The first one, on the first day, was Rjukandefossen. This is a relative small waterfall but oh so photogenic. It is almost impossible to make a plain picture. Everything fits when making pictures of Rjukandefossen.

I try to keep it short, but there is to much to tell. The second day I was heading to the Utladalen near Øvre Årdal. This is heaven for waterfall lovers and in my opinion one of the most beautiful hikes I ever made. At the parking you are overwhelmed by an extremely powerful waterfall called Hjellefossen. Twenty minutes further into the Utladalen you can enjoy another gorgeous and powerful waterfall, Avdalsfossen. A little bit further in the river Utla there is a small but oh so beautiful waterfall, Høljafossen with emerald green colors. After that it is waiting for the highlight of the hike, the amazing Vettisfossen, dropping down with great force over 275 meter (one of the biggest single drop waterfall in Norway).
I tried to decide what the next highlight was, but every day was a highlight. I like the region around the one of the biggest glaciers in Europe, Jostedalsbreen, very much. A glacier is always good for a lot of waterfalls. I really love the Oldedalen because of the views, Volefossen in front of a glacier and at the end of the valley the amazing Briksdalsbreen with one of the most photographed waterfall in Norway, Kleivafossen.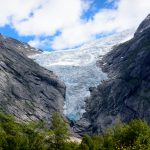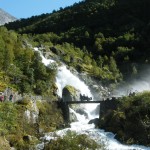 From there I went further north and visited the Geirangerfjord for the fifth time. This is definitely a place I want to live. Beside it is a gorgeous fjord and there are so many waterfalls is is also the relaxing atmosphere you breath that I like so much. People are fishing and eat their fish for diner, how perfect can it be. Unfortunately I didn't brought fishing tod with me.
Did you know Google keeps track (with most people) where you have been every day of the year. You can disable this feature on your mobile but I like it. I even can see where I was years ago, in case if you forgot. It is called Google Timeline. It is not always accurate but most of the time you get a good idea of where you have been and what you have done.