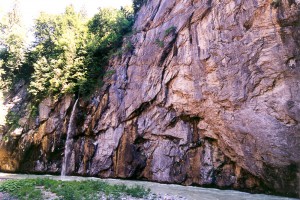 There is a small waterfall in the Aareschlucht, near Meiringen in the region Berner Oberland, Switzerland.
When driving from Brienz to Meiringen on road 6 there is a small road going to the Aareschlucht, just a 100 meter further from the roundabout at Meiringen. At the end of the road there is a parking which is also the entrance to the Aareschlucht (gps 46.719600, 8.204967).
You have to pay admission for the gorge, CHF 9 for an adult. You can also buy a combined ticket with the beautiful Reichenbachfall which is nearby.
The Aareschlucht is a gorge near Meiringen (and the famous Reichenbachfall) which is quite nice but the waterfall itself isn't very impressive.