Aschlbach wasserfall
(Cascata Gargazonne, Gargazon wasserfall, Cascata Rio Eschio)
The Aschlbach wasserfall (Cascata Gargazonne or Gargazon wasserfall) is a beautiful waterfall north of Garagazon in the region Trentino – Alto Adige, Italy.
The village of Gargazon is located along the main road from Merano to Bolzano. Take the exit to Gargazon and drive towards the church. There is hardly any parkingspace near the trailhead to the Aschlbach wasserfall or Kröllturm, a ruin. There are parking spots along the road near the church. I was lucky and had a parking spot at an unofficial parking where locals parked their car (gps 46.587215, 11.204934).
From the main road you can walk north, over Via Verano, until you see a small wooden sign Aschlbach wasserfall/ Kröllturm at the left side of the road (gps 46.587100, 11.205948). Walk to the back of the house where a trail runs slightly up to a nice viewpoint over the valley. A little further uphill there is a path going left to the Aschlbach wasserfall. The path leads to a platform with a perfect view on the gorgeous Aschlbach wasserfall.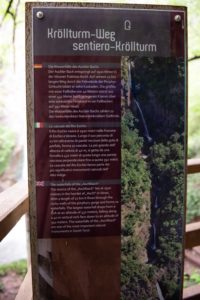 It took me 15 minutes to walk to the waterfall. If you want to visit the ruin Kröllturm you have to walk back to the main trail and walk further uphill for another 10 minutes.
I visited the Aschlbach wasserfall (Gargazon wasserfall) end of April 2019, the perfect period for this waterfall. The Aschlbach wasserfall was for me the highlight of all 300 waterfalls I visited. The volume was right, the scenery astonishing beautiful and the waterfall was incredibly photogenic.
The Aschlbach wasserfall (Gargazon wasserfall) drops down in a beautiful vertical stripe over 25 meter. As far as I could see the waterfall is much higher then the single drop you can see. The waterfall cascades down over several small stages that are hidden in the dense woodland. Upstream of the Gargazon wasserfall/Cascata Gargazonne (Aschlbach wasserfall) there are several other drops but are more difficult to reach.
Be careful, with heavy rainfall the gorge can be dangerous because of a sudden flood of the river Aschlbach.