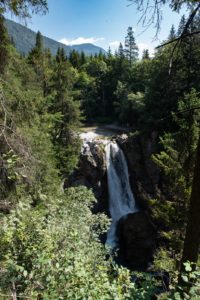 The Aubachfall is a gorgeous waterfall south of Salzburg, near Voglau (Abtenau) in the region Salzburg.
From road A10 take exit 28 "Golling". From here follow road 162 to Scheffau and Voglau. Near Voglau take the exit "Pich-West / Voglau". Over the bridge, directly turn left. Now follow the road for 1,3 kilometer until you see a sign "Aubachfall" and a parking. From here you can walk to the top of the Aubachfall in a few minutes.
There is also a sign to the Aubachfall which takes you down a stairs in 5 minutes to a lower viewpoint on the Aubachfall.
During my visit July 2020 I preferred to park my a car a little further down the road (gps 47.598147, 13.297154) at the other side of the Aubachfall. This site has a wonderful viewpoint and in one minute you walk to the top of the Aubachfall for a spectacular view down. Although the Aubachfall is only 40-80 meter high, looking down a single drop of 40 meter is quite frightening.
The Aubach flows from a gorge between Egelseehörndl and Einberg. The first step (out of five) plunges down over 15 meters into a basin. After that there are three other steps in a row of 10 meter, then one of 20 meters, then the biggest of 40 meters and the last step is 12 meters high and is a big washed out half cave.
The walls are almost vertical and show suit of slickenside surfaces and the Aubachfall is about 80 meters high and shows a geologically conditioned erosion notch in the hard Trias rock. The Aubachfall allows an exceedingly clear study of the tectonic and stratigraphic construction of this rock to scientists.
There are many other waterfall nearby bu the Gollinger wasserfall is my favorite, a must to visit and very spectacular. Als nice to visit is the nearby Dachserfall, not very high but yet a very special waterfall!
© 5-6th picture Broderick Dyke, Austria