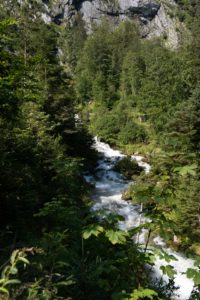 The Tricklfall is a series of small rapids southwest of Abtenau in the region Salzburg, Austria.
In Abtenau take the exit at the Raiffeisenbank. Follow the road to Unterberg until you see a parking at the right side of the small road (gps 47.554000, 13.334250).
Walk down the road for a hundred meter until you see the small yellow signs. You can choose to first visit the Dachserfall and from there to go to the Tricklfall (20 + 20 minutes) or to go straight to the Tricklfall (15-20 minutes).
If you want to go via the Dachserfall just follow the signs "Dachserfall" and there take the path up to the Trickfall. The path is very well signed.
If you want to go directly to the Tricklfall, then go straight ahead at the yellow signs and cross the river. Then follow the river Tricklbach upstream.
The origin of the Tricklfall is a natural source (quelle) called Tricklfallhöhle and is cave in the mountain Unterberg. The Tricklfallhöhle is 430 meters long. After heavy rainfall the volume of the waterfall can exceed an impressive 3.000 l/sec.
The height of the Tricklfall is hard to estimate because it are hundred of small rapids after each other. I think the total height is appr. 80 meter. The waterfall didn't impress me much, also because it was hard to view all of the waterfall. You can only see part of it.
There are five nice waterfalls near Abtenau and a perfect base for all kinds of day trips. Beside the Dachserfall and Tricklfall you can visit the Schwarzenbachfall / Winnerfall and finally the imposing Aubachfall. The Aubachfall is the most photogenic and powerful one.
© first pictures Broderick Dyke, Austria