Boafossen
(Bøafossen, Sniglafossen)
Boafossen (officialy written as Bøafossen) is a 130 meter high waterfall in the hamlet Bø (Laerdalen) in the region Sogn og Fjordane.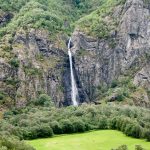 The waterfall is visible from road E16 when driving between Borgund and Laerdalsoyri at the southside of the valley. Best view is when taking the exit to "Mo". After a few hundred meters you are almost standing in front of Bøafossen.
It is quit confusing what the official name is of the waterfall because on the map the upper part of the waterfall is called Sniglafossen. On old pictures the waterfall is named Bøafossen, so that is the proper name.
In wintertime Bøafossen freezes and is used for iceclimbing.