Bruresløret (Mysuseter)
(Bruresloret, Storulfossen)
Storulfossen or Bruresløret is a scenic waterfall near Mysusæter (Sel) in the region Oppland, Norway. Storulfossen (Bruresløret) is part of the national park Rondane.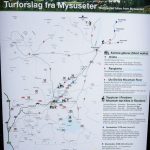 South of Otta, at road E6, take the exit to Mysusæter. From here it is a 13 kilometer drive to a big parking (paid). The road goes steeply up in the beginning with a lot of hairpin curves, but is of good quality. Soon you reach a big information board about hiking in Rondane. Here you have to park the car (paid), the road is further on only accessible for inhabitants. I was particularly interested in the hike to Veslulfossen and Storulfossen. (copy link address in a new window if you want a larger version to view).
There are several options to go to Storulfossen (Bruresløret) but the most common (and most beautiful) one is taking the trail along the river. From the information board at the parking walk to the hotel up the road and go left here. Follow the road and if you want, keep left, you can go walking along the river. Depending which path you took, later on you have to go to the east side of the river towards Spranget.
If you keep on walking along the river Storula you first pass a nice waterfall sliding down the river with a height of appr. 5 meter. From here the path goes more up until you are walking on the top of a small canyon. After 1 kilometer you see Storulfossen (Bruresløret) down the small canyon.
Storulfossen (Bruresløret) is a waterfall of great beauty. Although the waterfall isn't very high, the rockformation, the power of the water and the colors makes it one of the nicer waterfalls in Norway. I measured the height of the fall with an altitude meter, a single drop of 20 meter.
Storulfossen (Bruresløret) is a twinfall that can be viewed from several viewpoints. It is very easy to walk from the bottom to the top of the waterfall.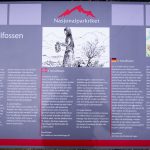 From the parking it is a 45 minute walk taking the trail along the river Storula. A pleasant walk in a beautiful surrounding. On the way to Storulfossen (Bruresløret) there is a junction where a path is heading to west side of the river, to Peer Gynt, to an even more amazing waterfall Veslulfossen (magnificent).
Another big waterfall in Rondane is located southeast of Mysusæter in the Frydalen. The waterfall is called Jøråfossen and it is a walk of 8 kilometer. Here the river Jøråa thunders down over 80 meter.