Myfallet
(Myafossen, Myfallene)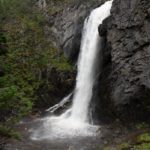 Myfallet (also called Myafossen) is a gorgeous waterfall near Venabu in the municipality Ringebu, (Oppland) in Norway.
Myfallet is easy to find and the hike begins near the Venabufjellet hotel. From road E6 near Ringebu take road 27 (Rondevegen) towards Venabu. At the Venabufjellet hotel there are two things you can do:
1.) Most people park the car at the parking near the hotel (gps 61.65061, 10.11059) near the trailhead to Myfallet. Walk a hundred meter north in the direction of the lake. At the right side of the road there is a sign "Myfallet". The trail is appr. 3 km long, one way, and takes about 60 minutes going to Myaseter>Mytunga>Bjønndal and then to the Myfallet. The path reaches a bridge over the river Mya.
2.) North of the hotel take the small road "Myvegen" and drive on for a little over 1 km until the car road ends at a barrier. Here you can park the car. Walk further down the road crossing the barrier. The road descends to the river Mya to the bridge.
From the bridge the road ascends a little and you see some signs again " Myfallet – 1 km" and "Myfallet – 0.8km". I think these signs doesn't indicate the proper distance but proceed following the trail. It now takes a time before you see a sign "Myfallet". I took the path down to the bottom a little earlier then the sign.
The path can be slippery but soon you have a nice view on Myfallet from aside. The closer you get, the better the views become. Best views (in my opinion) is when walking up, opposite of the waterfall, on an unofficial path. The unofficial path ends at a fence from where you walk back again (you don't have to go down again)
I visited Myfallet August 2019 and I did hike nr 2. It took me 25-30 minutes. The hike is pleasant and only the last part is a little demanding.
The river Mya drops down over 100 meters in three tiers. The lowest tier at the base of the fall is the biggest. Myafallet is also called Myfossen, the name that comes back on postcards. Myfallet is the name that is mentioned on several online maps and signs.
Nearby there is another nice waterfall: Dørfallet. On the way to Myfallet you already passed two time a sign Dørfallet. On the way back you can follow the sign "Dorfallet – 2.5 km", a detour that takes another 1,5-2 hours.