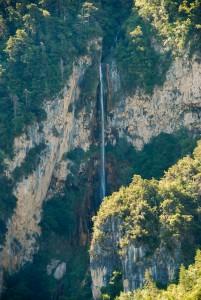 Cascade de Vegay is a waterfall east of Aiglun in the region Alpes/Alpes Maritimes, France.
Cascade de Vegay is located along road D10, east of Aiglun. Cascade de Vegay is visible from the roadside but it is also possible to hike to the base of the waterfall, a nice place for a refreshing shower with warm weather.
From Aiglun there is a small road (gps 43.854288, 6.919538) heading to the river L'Esteron. Only problem: there is no parking. A hundred meters further there is a pocket in the road. Walk down the path and after crossing the river go left. Follow the river until there is a trail to Cascade de Vegay, there are signs.
Another option (maybe better) is to drive from Vascognes to Pont de Vegay and park the car here (gps 43.853259, 6.931566). From the parking the walk to cascade de Vegay is shorter, appr 30 minutes (1,6 kilometer).
Cascade de Vegay is an impressive waterfall with three tiers. The biggest tier has a single drop of appr. 80 meters, but in total the waterfall is over 140 meters high.