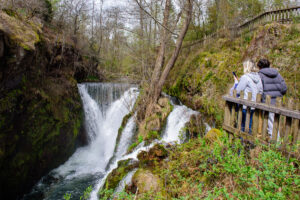 Cascade Saut de l'Ognon is a small but delightful waterfall in Syratu-Marnans, south of Servance, in the region Franche Comte/Haute Saone (Doubs department), France.
Cascade Saut de l'Ognon is located near road D468 just south of Servance when driving to Belonchamp. You can't miss the parking because it is a quite popular destination for tourists. When I was visiting the waterfall, april 30, 2023, cars where parked along the road and the parking was full (gps 47.808739, 6.679994). At the trailhead you can read about the waterfall.
From the parking it is less then a 5 minute walk (300 meter) to the viewpoint on Cascade Saut de l'Ognon. Cascade Saut de l'Ognon has a lot of power in wintertime and with a height of 14 meters it can be very impressive. In wintertime the water course exceeds to a volume of 50 m3/s. In summertime the flow is reduces to 10 m3/s. When I was at the waterfall the flowrate was quite respectable.
Cascade Saut de l'Ognon doesn't look only a little bit unnatural, it is. The waterfall is created by building a small dam. Nevertheless, it is visit worthwhile!