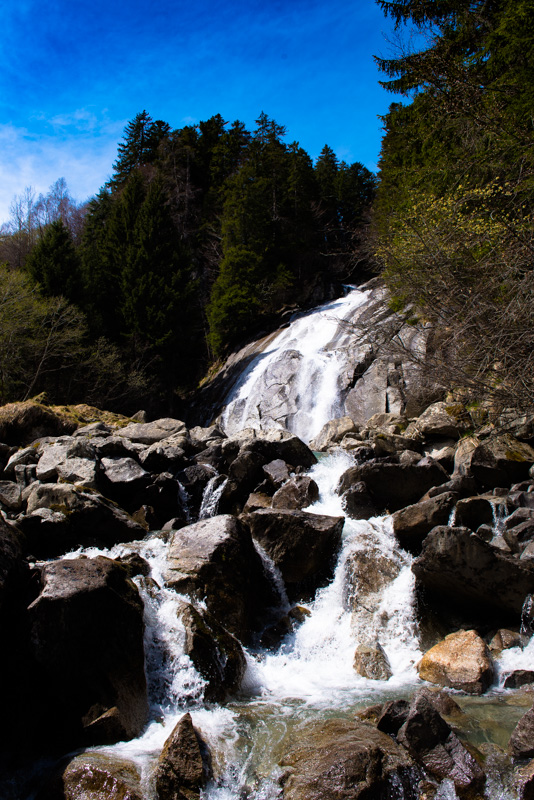 Cascata d'Amola is a 52 meter high waterfall located in Val Nambrone, in close proximity of Rifugio Nambrone, not far from Pinzola in the region Trentino – Alto Adige (Südtirol), Italy.
When driving from Madonna di Campiglio to Pinzola take the exit to Val Nambrone. The road is very narrow and in bad condition. You have to drive carefully until you reach Rifugio Nambrone and a big parking lot (gps 46.205133, 10.752493). Park the car left behind a big ugly building; no idea what is was. There is an information board at the trailhead.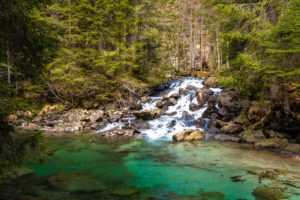 Take the trail to the west and cross the river. There are small wooden signs. Directly at the trailhead you have your first photo moment. Although it is a small rapid, the colors in the river are astonishing. After taking some pictures go right after the bridge. In a few minutes time you will have a view on a big waterfall that I named cascata Nambrone. The waterfall isn't clearly visible but it looks like cascata d'Amola that is a few hundred further left. Walk further until you reach a wooden pedestrian bridge just in front of the waterfall. From the bridge you have a great view on the lower part of a 50 meter high waterfall. I think the waterfall is much taller then you can see.
I visited cascata d'Amola end of April 2019 and that was a little to early. Some parts of the trail were covered with snow. I think later in the season, early summer, there is much more melting water in the river.
A little further into the valley you can walk to cascata de la Canavacia in 20 minutes starting from the bridge.
I also visited the valley next to Val Nambrone, the better known and more touristic Val di Genova at Pinzola with a lot of waterfalls. Cascata di Nardis is the best known and easy to reach waterfall.