Cascata del Pedruc is one of the many waterfalls in Valle Genova, near Pinzola, in the region Trentino – Alto Adige, Italy.
In Pinzola you have to watch where the exit to Valle Genova (Cascata del Nardis) is. It is hard to imagine that the exit is a small narrow road for such a big tourist attraction. In summertime it can be very crowded.
In summertime you have to pay an entrance or parking fee of 6 euro. The closer you want to park (gps 46.169136, 10.721189), the more you have to pay (9 euros if you want to park close to cascata del Nardis).) Why do? The trail to the first waterfall is very beautiful and not that long.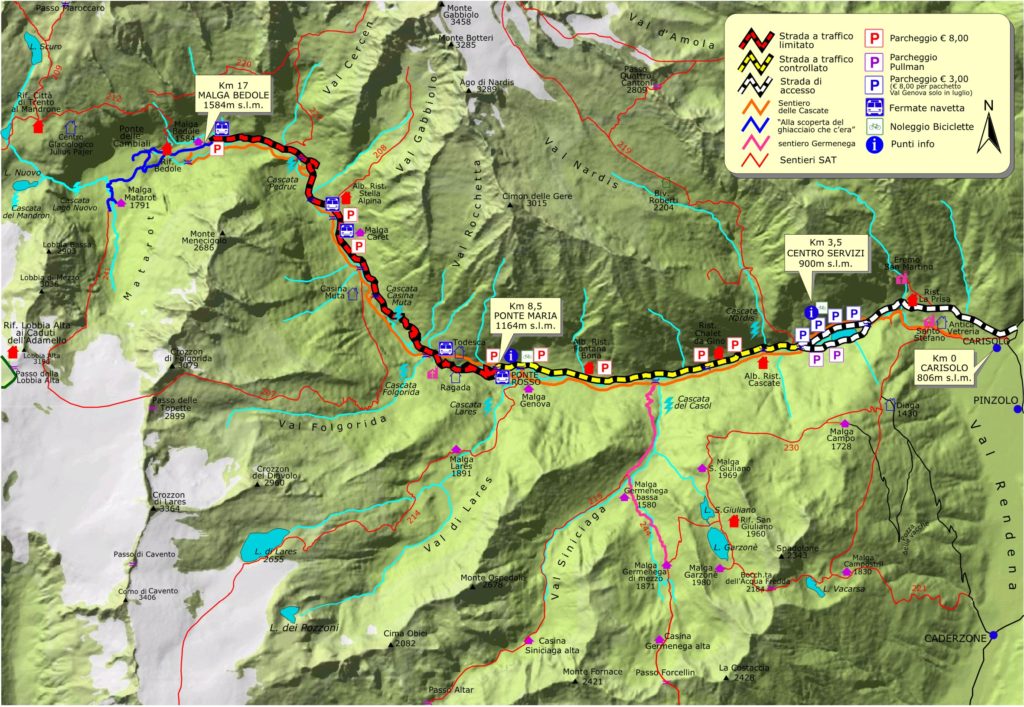 The first waterfall you see (and can't miss) is the most famous and also the highest waterfall in Valle Genova, cascata del Nardis. From here is a gorgeous, though long walk (14 kilometer) to the end of the valley, to the Bedole hut. It is also possible to stop at la Todesca (after 8 kilometer). In summertime there is a shuttle bus that can bring you back to the starting point.
Cascata delle Pedruc is the fifth waterfall in Valle Genova and is appr 30 meters high. Cascata delle Pedruc is located near the last bus stop, before Rifugio al Bedole. If you want to go by foot from the parking it is appr 11 kilometers (3 hours). For more information about the shuttle bus, look at the timetable to see the times and the fee.
I visited Valle Genova two times, once in summertime and once in April. Unfortunately the first time we didn't want to make such a long walk and the second time I had limited time. So both times I didn't saw cascata del Pedruc.