Cascata dell'Acquafraggia
(Cascata Acqua Fraggia)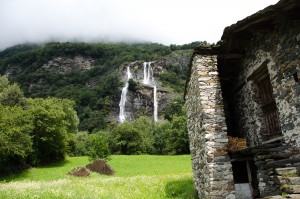 Cascata dell'Acquafraggia is an easy to reach and gorgeous waterfall near Borgonuovo in the region Lombardia, Italy.
When driving on the ss37 to Borgonuovo you cant miss Cascata dell'Acquafraggia. From far away you already can see this impressive waterfall. There are parking lots as well on the right side of the waterfall as on the left side of the waterfall. From the right side the view is a little bit better.
From the parking you can walk, in a few minutes, to the base of the waterfall. Cascata dell'Acquafraggia is a popular spot for locals (and tourists) to picnic. Especially for children this is a perfect spot where they can play and enjoy the river Acquafraggia cascading down over 130 meters. The source of Cascata dell'Acquafraggia lies at lago dell'Acquafraggia at 2.030 meters.
Near the parking there is small place where you can eat and drink something, the real Italian experience. At the other side of the road there is a camping site named after the waterfall "camping Acquafraggia".
I visited Cascata dell'Acquafraggia years ago and to my surprise I discovered a rather unknown waterfall closeby: Cascata di Samolaco near the village of Samolaco.